This giveaway is OVER… Congrats to Jessica Saroch!

If you are already a mom then you might remember back in time to when you were expecting and how many concerns you had over having a child. We all know that our little angels don't come with instructions. If you are a mom to be then I'm sure you are looking forward to the day when your precious little one will be born. You probably have a lot of questions and concerns as we all do/did about what to expect. Whether you are a mom to be, a father to be, a grandparent to be or maybe you just know someone that is expecting then you will want to enter this giveaway.
When I was expecting my first child I was given the "What to Expect When You're Expecting" book at my baby shower. It was a part of my pregnancy as I looked forward to the day my son would be born. I spent countless hours with my feet propped up, drinking decaf tea or decaf coffee and reading. This number one best selling pregnancy book became my pregnancy Bible. Before my son turned a year old I bought the second book, "What To Expect in the First Year." Sadly I never got around to buying the third book, "What to Expect the Second Year: From 12 to 24 Months" but I'm happy to say that by the time I had my second child, a daughter, I did purchase this book. By the time I had my third child I pretty well knew these books by heart but that didn't stop me from reading and enjoying them just as much as I had during my first two pregnancies.
One of the things that I was concerned about was my caffeine intake. By the time I was expecting my first child I was a big coffee and hot tea drinker. When I say big I mean BIG! I didn't just stop at one cup in the morning. The caffeine counter in "What to Expect When You're Expecting" helped me cut down on my caffeine almost to the point of cutting it out completely. The book gave me an idea of what to expect during each month of my OB/GYN doctor visits. I learned how to exercise the right way when I was expecting versus how I was exercising prior to my pregnancy. It was comforting to know what to expect during each phase of labor. There are so many wonderful questions answered that I didn't even think of to ask about in the "What to Expect When You're Expecting book"… I can see why it's America's #1 Bestselling Pregnancy Book.
"What To Expect in the First Year" is as priceless to me as book one. It gives a month by month guide for the first year of life. It gives an immunization guide, tips on helping your baby sleep through the night, it gives an idea on when to start your baby on solid food and so much more. The comprehensive sections on first aid, safety and keeping your baby healthy are so valuable to parents. Following along with the book gives you an idea of the growth and development of each stage of your child's first year.
"What to Expect the Second Year: From 12 to 24 Months" is a complete why, when, and how-to guide. As I mentioned before I didn't have this book when my son was a toddler. It sure would have come in handy with his picky eating habits. We tried everything we could think of which of course was limited in knowledge seeing as how he was our first child. Thankfully I had this book with my girls. They seemed to have more temper tantrums than my son did and I used all of the behavior tips in this edition. It provides safety tips and oodles of information for the 12 to 24 month year old child.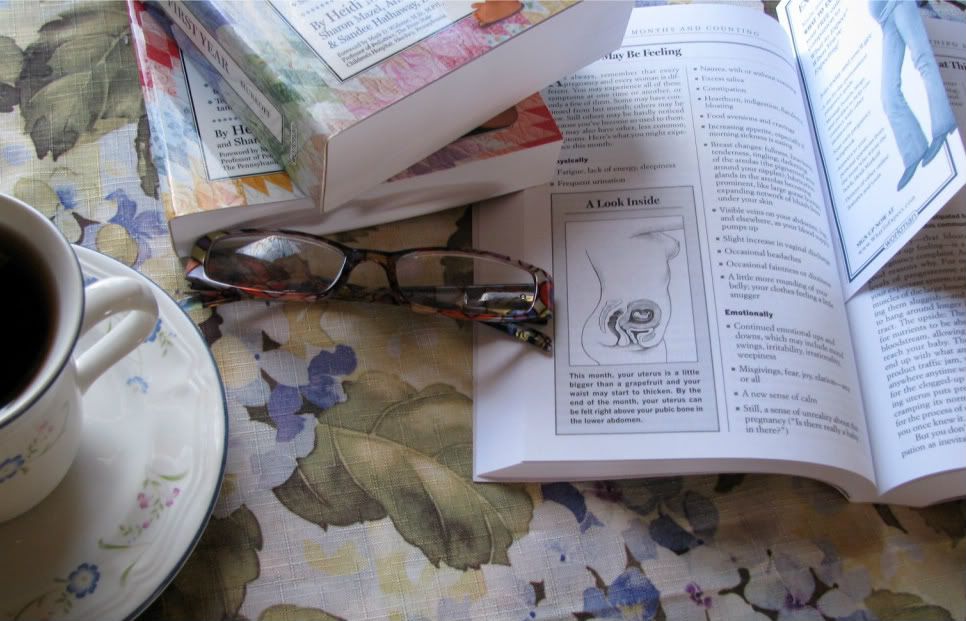 When my daughter was expecting my first grandchild guess what she got?! Yes you guessed it, she got my books that I read endlessly when I was expecting her and her bother and sister. I've often missed the books when I have a question or concern in regards to my grandchildren but I didn't want to ask for the books back. Now I have my own set once again. I don't know if you can comprehend just how much I cherish them and how thankful I am to WhatToExpect.com for them. As I've been rereading them they bring back some fond memories. There are some things you just can't put a price tag on. I'm sure I will use them often over the years as my grandchildren grow and they will be passed down to my first expecting grand-child when that time comes.
One of you are not going to have to worry about having to purchase these wonderful books thanks to WhatToExpect.com because this giveaway is for all three books…
"What to Expect When You're Expecting: 4th Edition"
"What To Expect in the First Year – 2nd Edition"
"What to Expect the Second Year: From 12 to 24 Months"
I've very grateful for the opportunity to host this giveaway because I know how much these books meant to me. I know how much they will mean to one of you or to someone you know. Of course you don't have to wait for the giveaway to end to purchase your own set of books.
Be sure to visit WhatToExpect.com, like them on facebook and follow them on Twitter to stay up to date.
Please use the rafflecopter form to enter the giveaway. Good luck!
Disclosure:
I received one or more of the above mentioned products to review. As always on my site, my opinions are mine, and mine alone, and are not influenced by anyone. No monetary compensation was received.