NOTE UPDATE APRIL 1 2012
Due to Google+ and facebook rules this giveaway has been changed to Twitter mandatory and facebook optional option.Okey dokey? :)
Let's have a Mother's Day Giveaway! What better gift than a Kitchen Aid Mixer? I want it to be fun and simple, moms work hard enough as it is, so there will only be one link per person (Google +). If you need G+ followers now is your chance to rack up on them because EVERYONE loves something new for their kitchen. Especially if that something is a Kitchen Aid Mixer. If you've never hosted a giveaway and want to learn how, this would be a good place to start (because basically everything will be done for you, you just copy and paste it in a post lol). Giveaways are sooooooooo much fun!!
Here are some buttons and the form link so you can help me promote this. Thanks!! I'm excited!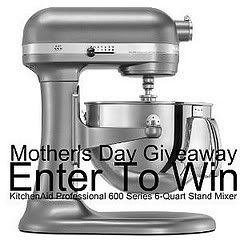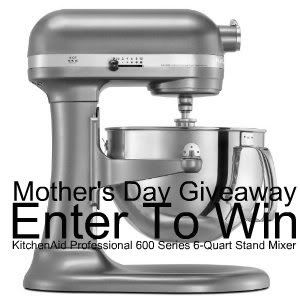 PS PLEASE ADD YOUR NAME TO THE LINK BELOW AND FILL OUT THE FORM IF YOU ARE PARTICIPATING. $20.00 due by April 1, 2012. Giveaway will run from April 13, 2012 until May 13, 2012 (Mother's Day). PARTICIPANTS CAN ENTER TO WIN!
Click here to grab the rafflecopter script…