Hauling & Trucking, Medical Transcription Source and Makobi Scribe Present New Year's Resolution Blog Carnival. My New Year's Resolution is to read more books! I am and have always been a bookworm but I've let myself become too busy this past year for one of my favorite hobbies. I'm slowing it down in 2012, I finally got a Kindle and I've loaded it down with some really neat eBooks that I can't wait to read. I love it and want you to have a chance to own your own Kindle as well.
Terri's Little Haven, See, Shop, Love!, Ashley and The Little Ones Too and Totally Terri have teamed up with some other great bloggers to offer a Kindle Touch with special offers Giveaway. To get you started with your new Kindle, also included are 2 eBooks from Andrea Pearson that are suitable for teens and grownups; The Key of Kilenya and Samara: A Kilenya Romance. Please read my book review of Samara: A Kilenya Romance. Review of The Key of Kilenya coming soon.
This is not only a Giveaway, it's a Blog Carnival (giveaway hop). There are a lot of GREAT blogs participating in the Blog Carnival. After you enter my giveaway you can go to all of the other giveaways on the links listed at the end of this post. Go put on some coffee and have fun because that's what giveaways are for. I know because I enter them daily :) (and win some really cool things too). You have until January 10th to enter all of the ones you want to enter.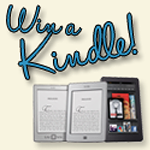 We love your comments but please use the rafflecopter to enter the giveaways. To enter using the rafflecopter, click on the green buttons that say +1 DO IT after you either log in from facebook or use your name and email address. Then click on the green button & it will tell you what to do then just select ENTER. US 18+. Check back daily, I LOVE to add bonus entries.
Please click to vote. Thank you!!