This giveaway is OVER. Congratulations to Tracy Robertson. Woo hoo! Time to get your caffeine boost!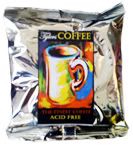 I recently had the pleasure of reviewing Tyler's Coffee and now thanks to Tyler's Coffee I am hosting a giveaway so one of you can have the chance to drink this wonderful cup of caffeine.
Good luck!! I hope you enjoy your coffee as much as I have mine. Talk about a caffeine boost! Wowzer!