This giveaway is OVER. Congratulations to Carmen Van Deursen.
Some people can go their whole lives and never have a yellow armpit stain on their clothes, but not me. The stains are caused by sweating (menopause sux) and the amount of urea in your sweat. Of course urea is more abundant when you tinkle (that's why tee tee has the yellow tint) but it can sure be a pain in the rear when washing clothes. I found a solution that is perfect for me. HURRAH!
I had the chance to review a product especially for those aggravating yellow pit stains. I didn't just jump at the chance, I leaped with both feet right into RAISE Armpit Stain Remover. I wasn't expecting too much considering all of my favorite summer and sweat stained shirts had been washed and stored for the winter and have been sitting months with those horrid stains on them. I mean seriously you can't expect any product to remove sweat stains from so long ago. Or can you?
Let's put it to the test. I got out 3 of my t-shirts and took some photos of them, yellow pit stains and all. Unfortunately my camera and red does not play well together when I'm trying to take close up photos so you can't really see how bad the stains were (WERE) on the red shirt. You can on the blue and pink so those are the two we will concentrate on.
The directions on the bottle of RAISE Armpit Stain Remover say to apply to the area, rub together and for tough stains use a small brush. Then let the items sit for 15-30 minutes. Then of course wash the clothes. I had TOUGH yellow armpit stains. I'm surprised I don't have ring around the collar as well. Anyhow… I've had a sick little girl this week. She's been home from pre-school and you would just have to know how hyperactive she is to understand that I DID NOT HAVE TIME TO BRUSH THE STAINS. I thought, well I'll put the Raise on, rub it together and let it sit. If it don't work, I'll try again with the brush when Abby is feeling better and I'm not running myself ragged trying to keep up with her.
I washed my shirts and threw them in the dryer. When I took them out I could have jumped for joy. THE YELLOW PIT STAINS ARE GONE AND I DIDN'T HAVE TO BRUSH THE AREAS! I think that just about says it all my dears.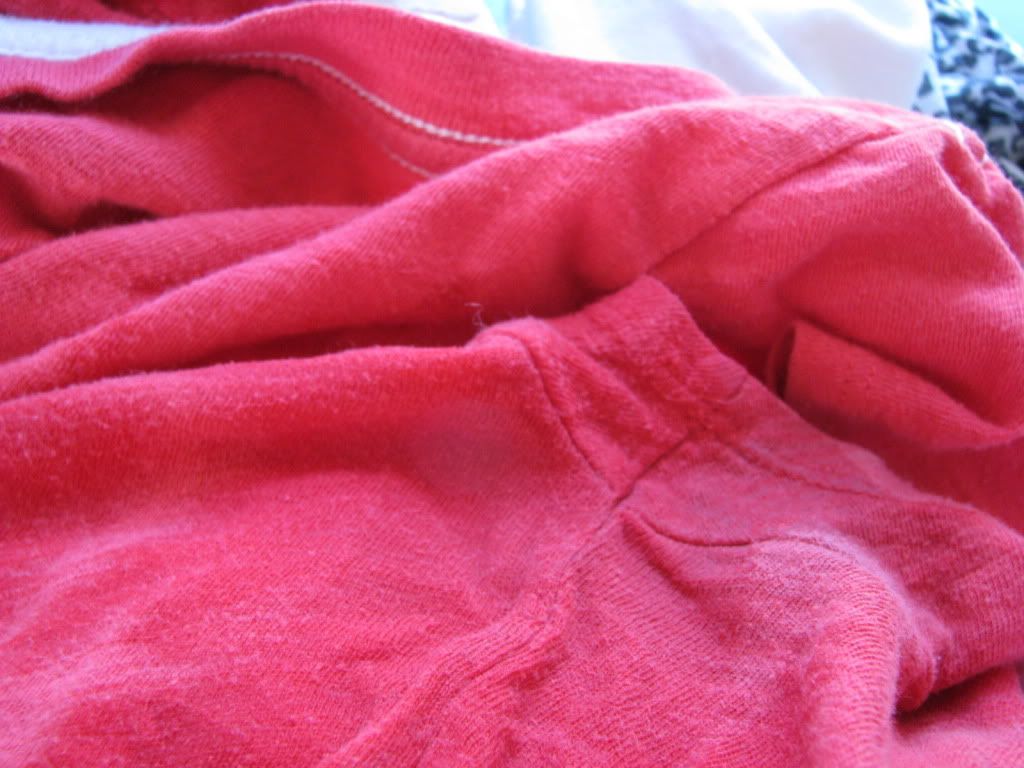 I wanted to test this product on our white T-Shirts to see how well it works on manly stains, however I read on the bottle that it does not work after bleach has been used. I use bleach on all of our white laundry. It can't be used on any bleached items as it will make the staining permanent.
There you have it! Now… thanks to my sponsors one of you will win a bottle of this amazing product! Please use the rafflecopter form to enter. If you have any problems or questions let me know.
For a limited time RAISE Armpit Stain Remover is running a 2 for $20 special on their site www.armpitstainremover.com.
I received one or more of the products mentioned above for free using Tomoson.com. Regardless, I only recommend products or services I use personally and believe will be good for my readers.