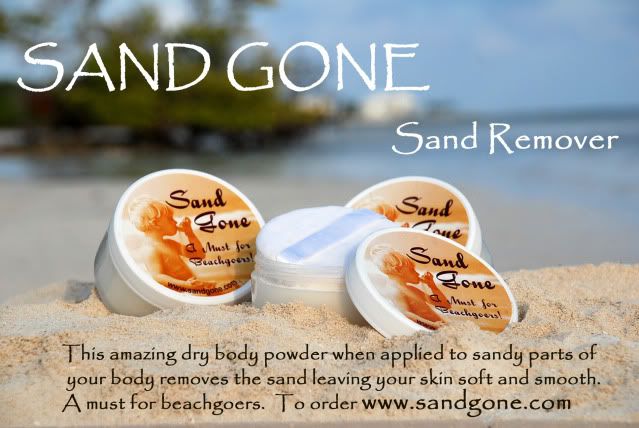 You've probably seen me mention a time or two (… okay a lot) that we are going on a cruise to the Bahamas this year. I don't know about everyone else but I intend to spend some of that time on the sandy beaches. There are 8 females going and none of us like to get sandy. I know this from the vacations we took together last year, one was spent in Texas and the other in Florida. The guys could care less and didn't seem to mind the sand at all. In fact I think some men are overgrown kids and the messier they are the better they like it :). We went crabbing, deep sea fishing, sunned our buns on a couple of different beaches and believe me there was sand everywhere. There is a reason I'm mentioning this, I had the chance to review a product that takes the sand off with a wonderful silky soft powdery coconut fresh smelling scent. Genius invention!
I was surprised when I received the jar of Sand Gone on how large it is. I thought if I like it, I would purchase more to take with us on vacation.. but there is plenty in the 8 oz jar I was provided. We will all be able to use it, males and females, and skip that icky feeling I always have when I leave the beach. Sand can be so itchy and uncomfortable under our clothes. And I do like it, in fact I love it and want to keep some on hand. Forever and then some. Kids! Sandboxes! Sand sand sand. Need I say more?
Sand Gone is a dry powdery substance that is applied with a microfiber applicator. What I especially like about the Sand Gone besides the fact that when I open my jar the scent instantly transforms me to the beach (I love the smell of coconut, it reminds me of my teenage years and my summers spent at Daytona Beach), is that the powder is non-toxic and non-talc. This is really important with kids and pets. A dry shower before leaving the beach, how wonderful. Back to the applicator.. the applicator is white and I was concerned about how to keep it white but I was soon to find out it's durable enough to throw in the washer and dryer.
I bet you are thinking, holy moly where can I get this amazing product?… you can order yours at
sandgone.com
, don't forget to like them on
facebook
and follow them on
Twitter
.
But wait.. you can also enter to win a nice generous 8 oz jar of Sand Gone right here on Terri's Little Haven. Please use the rafflecopter form to enter.. if you have any problems please let me know. Good luck, I believe you will love this product!
Disclosure:
I received one or more of the products mentioned above for free using Tomoson.com. Regardless, I only recommend products or services I use personally and believe will be good for my readers.