OVER!
Be A "Chili Champ" With Bruce Foods! I cooked with Mexene® Chili products for the first time yesterday, although we didn't eat it until today. I didn't think there would be much difference in it and the brand I normally use. Boy howdy was I ever wrong (first time ever *ahem*)… I want you to take a look at the Mexene® Chili Packet Abby poured in our pot of chili. Can't you just see the sun ripened chili peppers, cumin, oregano, and garlic? The hard part to making this chili was the wait. We were going out to eat last night so I let the chili simmer on low all night and we had it for lunch today. Can you imagine how ready we were to give this a try after torturing ourselves all night and all morning with the wonderful aroma? Even Abby said it was "dee-wish-us." We ate until we were stuffed. We literally made pigs of ourselves over this chili. Mexene® made our ordinary chili, extraordinary.
My recipe:
1 pound of ground beef OR
1/2 pound of ground beef and 1 cup of sliced mushrooms (cuts down on the fat content)
2 large or 4 small cans of chili beans
1 large can of whole tomatoes. Not diced, whole. There is nothing better than biting down into a whole tomato while you are eating chili. Trust me.
I can of tomato sauce
1 onion chunky cut
1 Mexene® Chili Packet & Mexene® Chili Powder
*Because Abby wanted to add a dash of Mexene® Chili Powder to the pot, I think you should include this in your recipe as well.
Louisiana Hot Sauce 1 teaspoon
1 teaspoon salt, no pepper needed.
No crackers. Don't mute the taste of this wonderful chili.
…"Mexene is the secret ingredient used in the past eight winning recipes from the World Championship Chili Cookoff in Terlingua, Texas." So yes, you can be a chili champ.
We are from Georgia. I don't know one family that does not have a bottle of Original Louisiana Hot Sauce in their home. You can't eat chicken without Louisiana Hot Sauce. Unheard of in our area. So I'm already familiar with this product. For those that aren't. Buy some. Just do. It can perk up your dishes in ways you can't imagine. We add it to beef stew, pot roast, chicken of course, chili and more. Much more.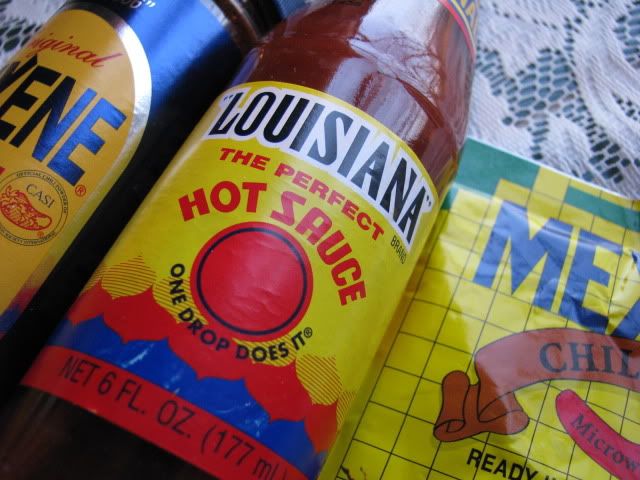 How would you like to win a "Chili Champ" Gourmet Gift Pack? The gift pack includes Bruce Foods seasonings and sauces and other chili fixin's. You can enter this giveaway by visiting ChiliCookOffWinner.com and sharing any recipe that you would like to try from there in a comment. Good luck and let me know how your chili turns out.
Disclosure:
I received one or more of the products mentioned above for free using Tomoson.com. Regardless, I only recommend products or services I use personally and believe will be good for my readers.