You all know how much I love finding new sites that are helpful to me. In case you didn't read my "goal" for New Years (no resolutions for me, no way) it was/is to become more organized. So today I end up at clipix and I immediately begin to search for ways to save me time and help me to become better organized.
I found recipes that I will be cooking and sharing with you I'm sure and I have them organized on my account as well. I'm currently browsing for vacation ideas while I'm typing this post. I've got a clipboard for cute hairstyles, shoes and so much more. I think I will use it to start planning out my weekly menus. Now there's an idea I like! Here's what my account looks like…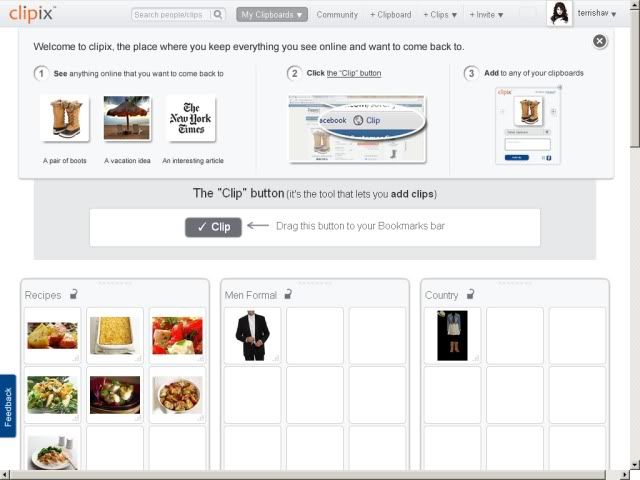 By adding a Clip bookmark to my bookmarks I can clip decorating ideas from anywhere and add them to my clipboard. It was pretty simple for me to add the clip button to my bookmark. I just followed the directions and slid it on up there. I use Google Chrome and I didn't have a bit of problem with it. I wanted to see how hard it was to actually clip something so I went to a couple of my websites and clicked on the clip button (love having more backlinks). A little box popped up asking me which category I wanted to add it to and I had a choice of adding a comment. Very simple and fun to clip.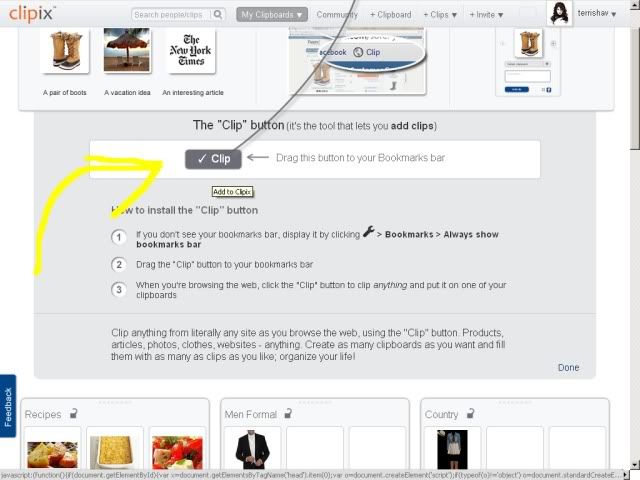 If you have an iPhone be sure to check out the app so you can take your clipboards wherever you go. You can also add photos to your clipboards.
I'm headed back over to clipix.com to work on my wish list and organize, my organized, clipboards. Yep, I can see that my New Years goal is working out just fine. What kind of things are you interested in clipping there? Recipes? A room makeover? How about some vacation ideas? Please share your interests in a comment.
Promoted Post