Abby's got a Pourty, the potty and she couldn't be any prouder about it I can tell you that. She also has only had once "accident" since we received it and that was during the night. While she is awake she is proud to use her Pourty. If you've never heard of a Pourty before then you will be interested to know it's a potty that pours.
Now the first thing that we HAD to do when we got her Pourty potty was to download a reward chart and diploma although she hasn't gotten the diploma yet. We "thought" we had her almost fully potty trained until winter set in. Now it appears we've had to re-start the training. The free reward chart and diploma they offer at pourty.com has been an extra incentive for her to go "wike a big guwl".. that and we've been encouraging her so she can get her diploma one day.
The first time we were potty training her we had a potty that had a removable "pot". You had to dump it out and clean it and touch parts of it that were just not fun to touch. Not so with a Pourty potty. The reason is what makes it so unique and why I really like it better than her other potty. Everything pours out of the back. There is no spilling over the side. Let me show you what I mean… I ended up putting water in the Pourty for photos, my home can be kind of "bright" when trying to photograph certain colors or things. You would think the lighting would play a bit nicer with my cams :). Anyhow..
This is Abby's Pourty. She decided she wanted a blue one although these come in girlie colors as well.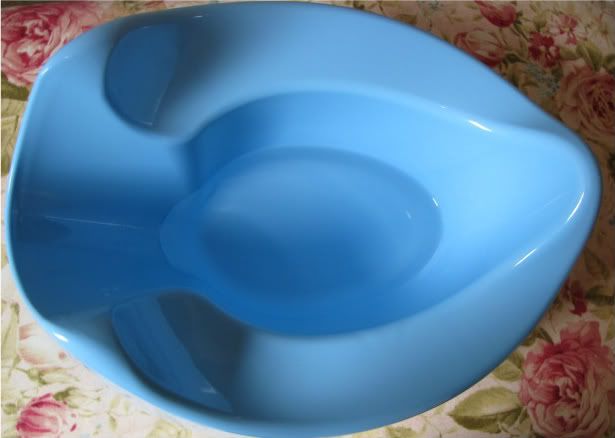 On the left you will see the groove/tunnel/spout? to pour it out.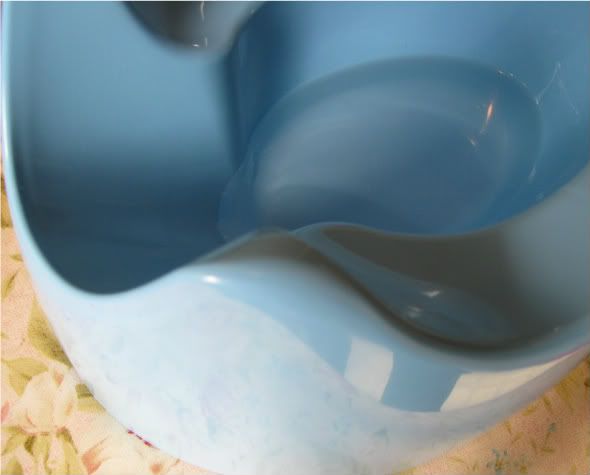 In the front is a grove to pick it up to dump it. Right here…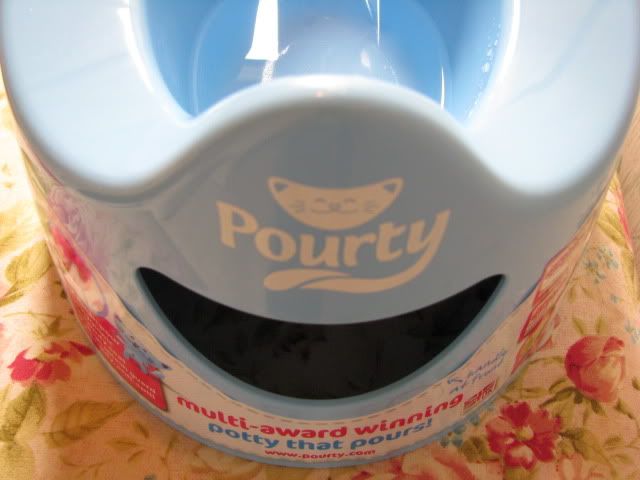 It's so simple to use and I love that it is only one piece. You just pick it up from the front and dump it out the back.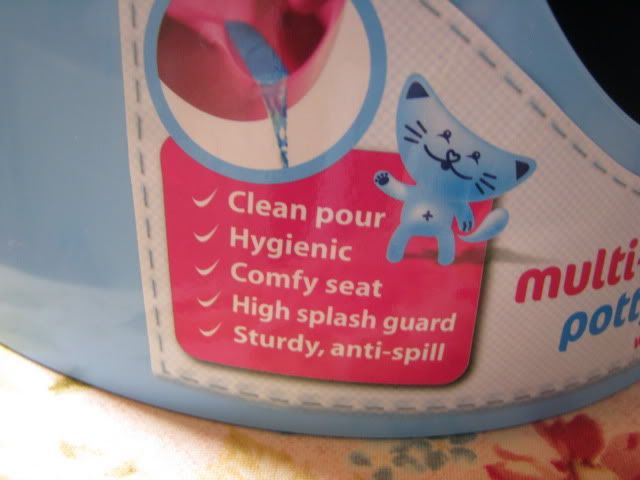 The seat is wide enough for the larger kids as well. Abby fits on it great, just as if it was made for her.
If you've ever gone through the potty training experience or if you are going through it now then you just have to appreciate the Pourty potty. If you have it to look forward to, take it from this mimi who has raised three kido's and has been and is still actively involved in my offspring's offspring potty training :).
Pourty is going to make it easier to help one of my readers potty train a child or children by offering a giveaway for a Pourty, potty. One of you will be as thrilled as I am with a new Pourty. If you can't wait for this giveaway to end you can buy the Pourty Easy-to-Pour Potty
in blue, pink, purple or white at Amazon. You can check their website for other retailers in the UK and USA. Don't forget to go download your FREE Reward Chart and Diploma!
You can enter the giveaway using the rafflecopter form (don't see one? try to refresh). Please be sure to follow Pourty on Twitter and "like" them on facebook. Much appreciated! You can come back each day to tweet to earn extra bonus entries. This giveaway is for those who live in the US and are 18+. Good luck! Pourty is wonderful.
.

a Rafflecopter giveaway