I'm so excited to own my new InfraShine High Performance Ceramic Spring Iron and equally excited to let you know that one of you will be able to win one for yourself. I have a wonderful ceramic flat iron that I got last year but I didn't have a ceramic curling iron. Now I do. When it arrived *sweeeeeeeeeals* *jumps* I opened it up and I was so fascinated with all of the details that I didn't even notice anything going on around me. I get like that when I get excited. It's so colorful and gorgeous! It's also the perfect size for my hair to give it the body I like with a 1 inch diameter.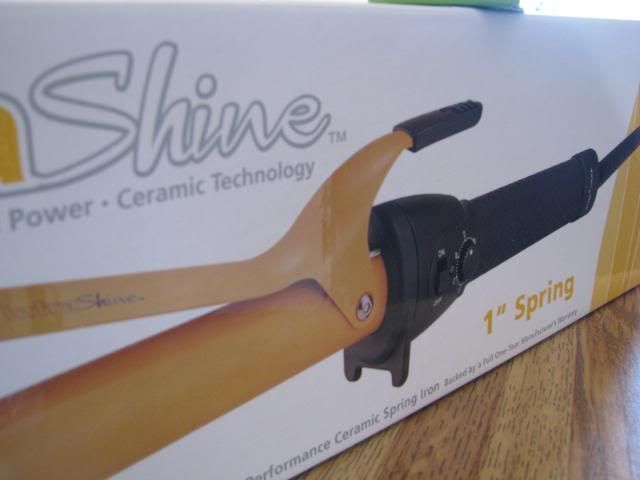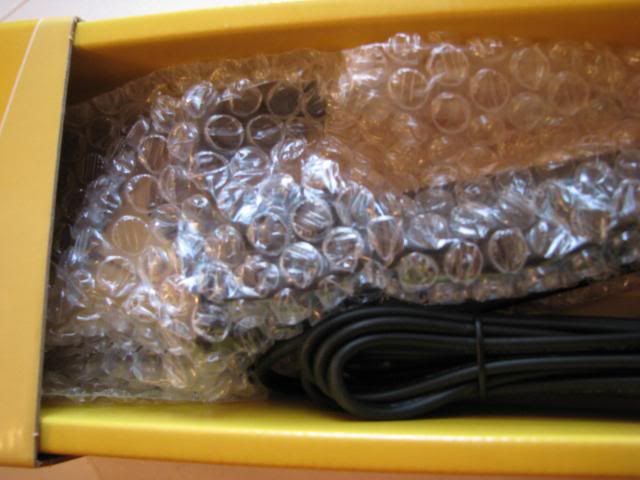 Let me talk about some details as I go. I love the nice big handle on the end of the iron located right at the top of the iron. I don't know how many times I've burned my fingers on those little bitty ends that a lot of curling irons have. This iron has a nice big piece I can easily grab a hold of that is stationary. In fact I can put my thumb and finger on it to hold it and I still have a little room for play. NICE feature.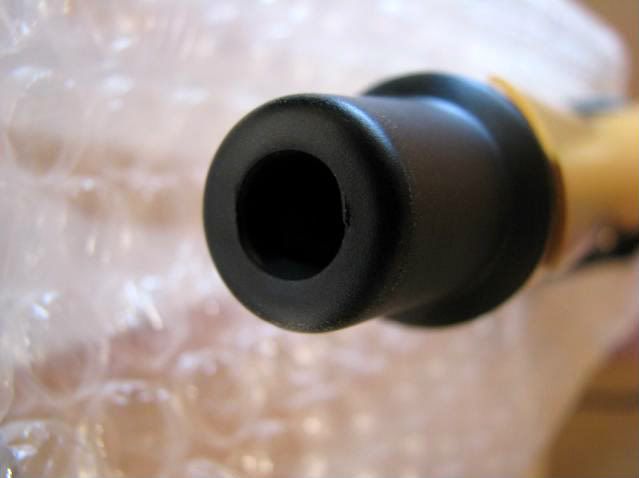 On the other end is a nice long handle that provides a great design that helps grasp the iron with my entire hand. Plenty of room to play on this handle. My hand doesn't slide, it's really easy to work with this handle. It's not rubber which sometimes causes my hand to sweat so that is a plus.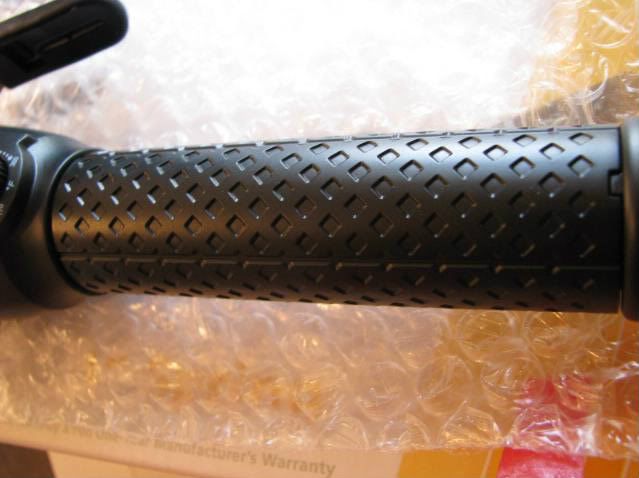 Directly at the end of the handle is a free or lock option. When I want to keep the curling iron in my hair I set it on lock. When I want to slide the curls out as I go I set it to free. This works well with long hair. It's really neat because I get different effects from either locking it or letting it move freely.
The settings on this go from 170 F to 360 F allowing a super great range of heating options. There are six settings to choose from. When I want looser curls I have found that setting it on 180 F works well for my hair. When I want a nice tight curl I set it about 310 F. This iron heats up in 5 seconds and starts blinking when it's ready. That's just another feature I really like on this ceramic spring iron.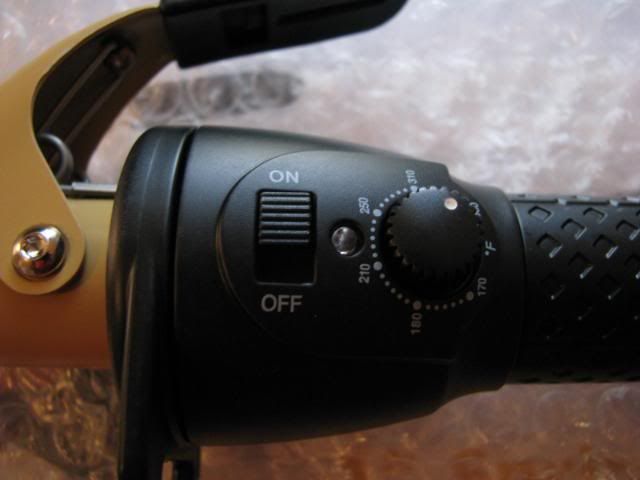 Speaking of spring… you get a nice tight spring with this iron. It's not difficult to open which was a concern I had due to arthritis in my hands. It holds my hair in place so good. There is really great craftsmanship associated with the spring action.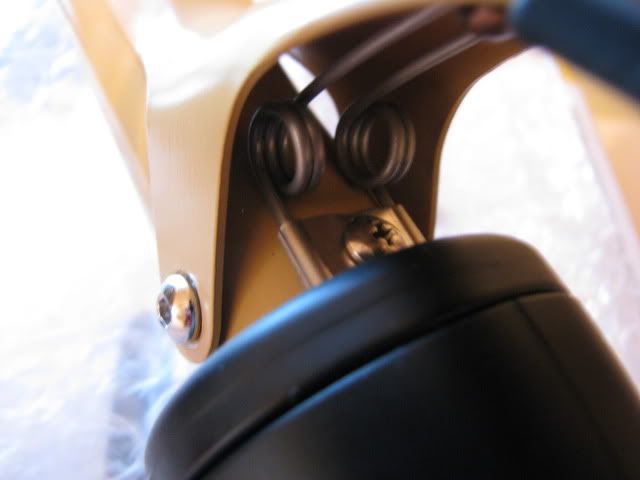 Another feature I LOVE is the nice long cord (9 generous feet of heavy duty UL approved cord)… I can't be still. Lil Abby gets that from me. No matter what I'm doing, I'm constantly moving. Seriously, it's like this cord was made specifically with me in mind ;). The fact that the cord has a flexible swivel just adds to what I already love about the cord. With my new InfraShine High Performance Ceramic Spring Iron the high-tech ceramic-plate rod creates evenly distributed heat with no cold spots. The energy efficient feature provides a low wattage ceramic plated barrel that won't over heat or damage hair. This iron heats the hair from within to lock in it's natural moisture.
Results: I don't have to worry about my hair using a ceramic iron versus a metal one. I get great curls, bounce and my hair always looks shiny! This iron sells for $220.00-$228.00. I have seen them lower than this advertised in the past. While you are here you can enter my giveaway to try to win one for yourself or someone you know. You can buy yours at most beauty supply stores or you can get a list of distributors at InfraShine. Be sure to check out all of their products. I'm sure you will want to stay up to date with them on facebook and it would be super if you would pin one of your favorite products to one of your boards on Pinterest.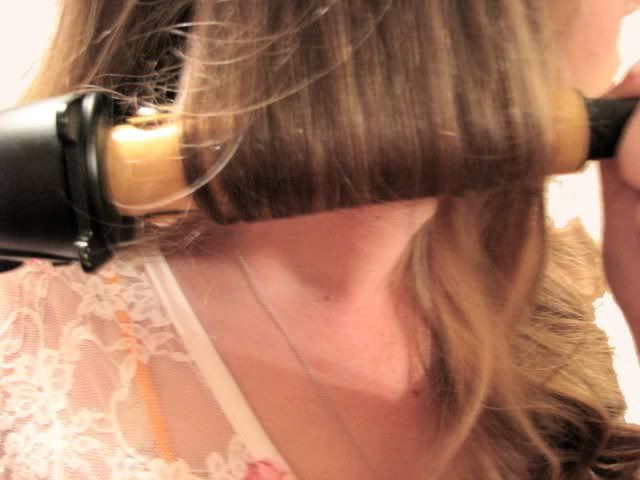 March 2 – 7th is the Fashionista Event going on Terri's Little Haven and all over the Internet. Please be sure to check out the Giveaway I have going on for this on my sidebar. Each day I will provide a different giveaway from some of the BEST sponsors with wonderful products so be sure to stop back daily.
This giveaway is for my US readers. I am looking into providing some future giveaways for "CA and International readers" and for the "male" readers as well. You should see the rafflecopter form below to enter on. If you have any problems with it just send or leave me a message. Good luck and thanks for participating. xo
a Rafflecopter giveaway

Terri's Little Haven is not responsible for sending giveaway items to the winner. I am responsible for relaying your information correctly and promptly to my sponsor as soon as the winner responds. I send out emails to my winners and if I don't hear back from them in about a week or sometimes sooner, I start hunting you down lol. I am the giveaway hunter! Seriously. If you win by golly I want you to get your item. Leaving your facebook, Twitter, G+ name or URL in the form where it asks helps me to find you quicker. Email don't always work as I'm finding out. Not everyone checks their email daily or sometimes messages just flat out don't arrive where they should for whatever reason. I've only had one incident where after a month and several messages on FB and via email, that I had to select a new winner. I hated doing that.
Disclosure:
I received a product from InfraShine to review in exchange for a honest review. 1 winner will also receive a product from Infrashine. My honest opinion is stated in this post based on using this curling iron for the past two weeks *flips gorgeous curls out of the way*.