I have had one exciting week of pampering myself with perfectly pampering products from Bonnie @ Perfectly Posh. If ever there was anyone who loves to pamper and be pampered it is the one and only Mimi. I received the most generous package and I had so much trouble trying to decide what to use first because they all smelled delightful!
Here is what I received… Posh Lovey Dovey
Let me break these products down.
Pink Vanilla Massage Mud: Super thick and creamy just a little warm and tingly.
This is a great product for couples. It's a nice thick & creamy massage mud. And… it's pink which just tickles me… well… it tickles me pink that it's pink (can you guess my favorite color? p.i.n.k.). You will see this again so remember it… ;). Every day is a perfect day for a massage. You can Posh your favorite person with this Pink Vanilla Massage Mud or they can Posh you. When I massaged it on my Lovey Dovey I used a nice generous amount and I have to say I was a little concerned that it would remain pink and stain our clothes but that was quickly dismissed because it rubbed in nice and clear. I had it applied to me because I'm spoiled like that I wanted to see how warm it would get. Too hot is just too hot. This product stood up to what it said it would, it's just a little warm and tingly. So… I thought, well… let me try it on my wrist to see how it would react on someone with sensitive skin. Again, it was just a little warm. It was very mild. I can't use products that get hot. They just don't appeal to me. This massage mud is the perfect creamy tingly combination. If you use Glade candles, I can relate the smell to their Vanilla candle. It's a mild smell. Not overwhelming at all.
Just "pure-ly" delightful.
Bubble Love Bombinator:
The bubble love bombinator is out of this world. Talk about a wonderful hot steamy foaming bubbly bath. I broke this up into pieces to use. A little dab'll do ya. As soon as it touches the water it starts foaming and bubbling up. And it is so pinkalicious! Now a pink bath just makes me happy. But a heavenly scented pink bath makes me ecstatic. I've used the bombinator twice now. It makes my skin so soft. When I get out of the tub I just pat dry my skin.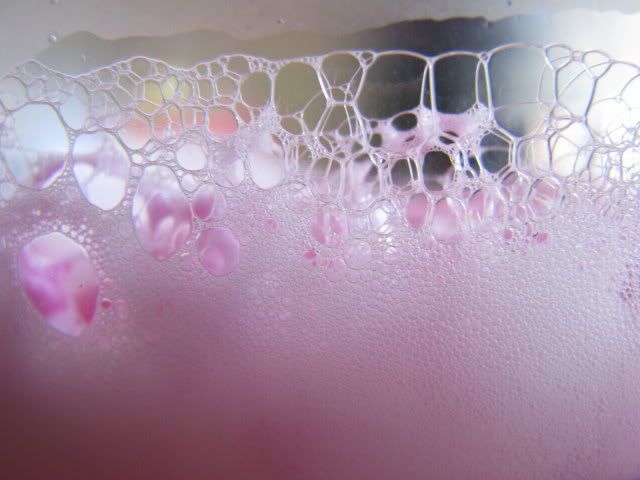 Lovey Dovey Heart Soap Set; pink, sparkling, vanilla confetti
There is no way I could pick a favorite of this set. Each one is so unique and wonderfully scented. And of course they are just too cute for words. Any product that is pure all natural and does a great job at getting a "pure-ly" clean gets a big thumbs up from me. These soaps lather up quickly and nicely. They get the job done plus they leave my skin feeling soft and freshly scented. I made the mistake of letting Abs use one to wash her hands. Now she has completely taken over it and gets her hands dirty just so she can use it. I wouldn't be able to pry the soap back from her if I tried. Since it's all natural I don't mind that she uses it so much. She bathes with it, washes her hands 9438758683748564 times a day and shows it to everyone that comes over. These soaps last a long time. Just having them open makes my bathrooms smell sooooooooo good.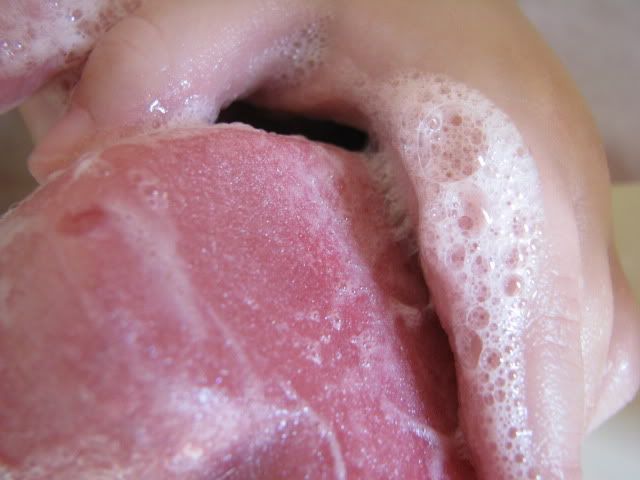 A few things I'd like to share as noted on perfectlyposh.com…
"Purely Pampering Products
Highest quality ingredients
No parabens, paraffins, SLS, gluten, soy
Indulgence: for a few hours off or for just a minute on the go
Please visit Bonnie at PerfectlyPosh.com, catalog, like her on facebook and follow her on Twitter.

Thank you Bonnie for pampering me and for allowing one of my readers to be pampered as well.

NOTE:

"Offering pure pampering products that are paraben-free, SLS-free, Gluten and Soy-free and all made in the U.S.A."
How would you like a chance to win a Lovey Dovey set of your own? Please enter using the rafflecopter form. If you have any problems with it please let me know. Thanks so much and good luck. US only please and thank you.
Disclosure:
I received one or more products to review in exchange for an honest opinion. My honest opinion is stated and based on using Perfectly Posh products for a little over a week AND from observing Abby's hands which have never known such cleanness before ;). My skin looks and feels great. I love pure products & I love Perfectly Posh.