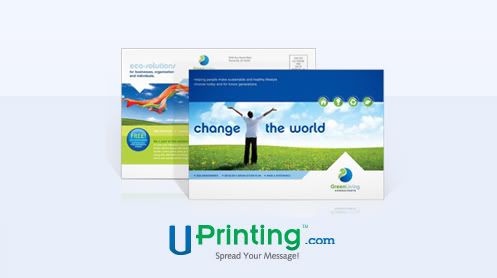 UPrinting.com was the first company I hosted a giveaway for on Terri's Little Haven so I know first hand the quality of their products. What I really like about this company besides their quality products is their commitment to social responsibility and eco-friendly printing initiatives. "UPrinting.com also offers convenient marketing support such as print design services, custom online printing quotes and direct mailing to help the small or medium-sized business grow." At UPrinting.com I don't have to worry about how something will turn out because they offer free samples so I can view what I want before I make a purchase.
When I was asked to host this giveaway I had several options to choose from. Well, you know me, I ponder something until I can make up my mind. I look at the big picture, what would most benefit me and my readers(?)… After I thought about it I finally decided on the postcards. I'll tell you why. The postcards can be used for just about anything. If you are a business owner such as you have an online shop or store, you can use them to send out information about new items. If you are a blog owner you can use them to send out dates of an upcoming giveaway event. I wish I had done that for the Spring Fashionista Event that recently ended. Postcards are an inexpensive form of mail and an easy way to remind people of something. The inexpensive mailing option was what I finally went with. We all need more ways of getting our products or sites out there besides just online traffic if we want to continue to grow.
I started playing around with the different postcard options to see how easy it was to use the tools that are provided at UPrinting.com. I came up with 2 super quick made postcards that I'm going to share. I did make more but I used a colored background on one and polka-dots on another & for one reason or another I didn't quite like them.
1. I could send out something like this in celebration of spring or summer on Terri's Little Haven…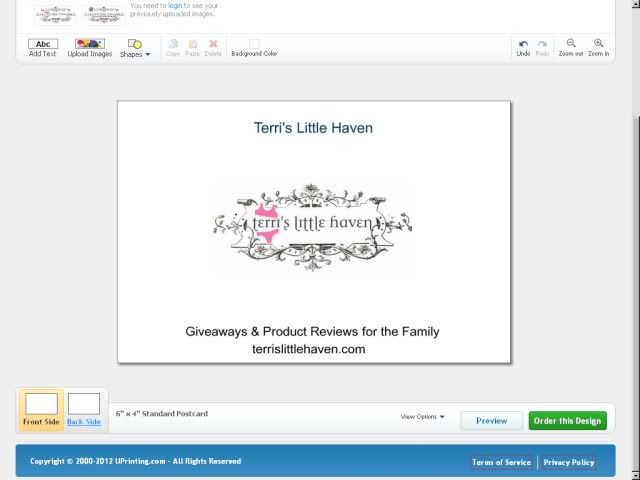 I can send them out just to remind everyone about my site. I could include them in giveaway packages that I self sponsor. Or I could use them to follow up with giveaway winners to see how they like the item/items that they received. There are just so many things postcards can be used for.
2. I could change it up and focus on one of my other sites and a specific item, such as my So Chic Bag Boutique, like so…
The possibilities are endless. You can use them to help build up your facebook, Twitter or Google+. All it takes is a little imagination and great products to produce a professional looking postcard. I'm indecisive when I make something so I will make at least 50 more (lol) before I decide what I will use my postcards for. I'm pretty sure that I'll use them for my So Chic Bag Boutique since we have a lot of neat new items.
This giveaway is for a generous 100 postcards
5" x 7", 14pt Cardstock Gloss, No Folding
Front Only Printing
2 Business Days Turnaround time
Free US shipping only
If you don't want to wait until the giveaway ends to buy your postcards you can head on over to their website and see what they have to offer.
In order to participate in the giveaway please like UPrinting.com and Terri's Little Haven on facebook.
AND
Tweet about the giveaway here…
Tweet
After you complete these then you can enter for your chance to win these really cool postcards. Please enter using the rafflecopter form. If you have any problems let me know.
Restrictions:
1. This giveaway is open to US residents only, 18 years old and above.
2. No prize substitutions allowed.
3. Winners are allowed to win once over a six-month period.
4. Only email addresses used for the giveaway will be eligible to claim the prize.
Disclaimer:
"You should assume that the owner of this blog will receive free print products in exchange for the post. Any and all reviews posted are based solely on my own experience and may be atypical. Please practice due diligence in making any related purchase decisions."