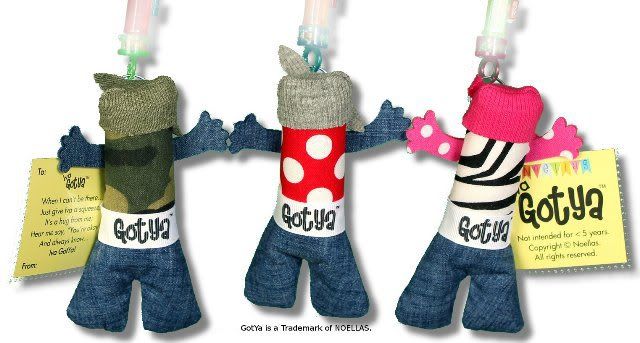 When I saw this product I thought it was just the cutest idea. 'Iva' GotYa™ is a little meaningful gifts keepsake clip on doll to remind the recipient that you are always there for them. I received the 'Iva' GotYa™ to review and Abby hasn't put hers down. I've even got one clipped to my handbag that I carry around as well. When Abby is with her mom or dad she has a little reminder that her mimi is thinking about her. My grand-kids are scattered around. I have 1 that I see daily because I watch her for her mom (Abby), 2 that I see about once a week and 2 I only see a few times a year. They will each be getting one from The Easter Bunny because I want them to know that even though I don't see them as often as I do Abby, I love them just as much and I want them to have a hug from me to take back home (hopefully one day they will live closer to me). 'Iva' GotYa™ would make the perfect unique Easter Basket idea for you as well if you love to buy unique gifts like I do.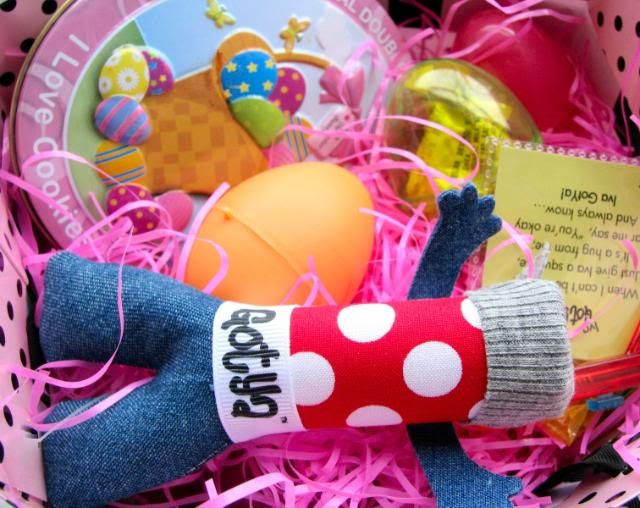 These cute feel good gifts are not just for kids. If you know someone who is serving in the military you could send one to them to let them know you are always thinking about them. These little clips can be clipped to your rear-view mirror, dufflebag, backpack, briefcase, suitcase, locker, handbag, anywhere. The hanging height of these are 7″. Whenever it rains Abby clips hers to the underside of her umbrella. She has put her 'Iva' GotYa™ in so many places I wouldn't have ever thought of. You can also personalize your 'Iva' GotYa™ with the To and From tag.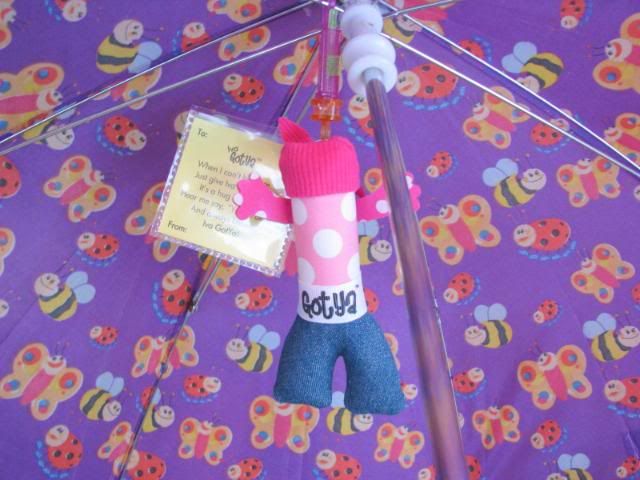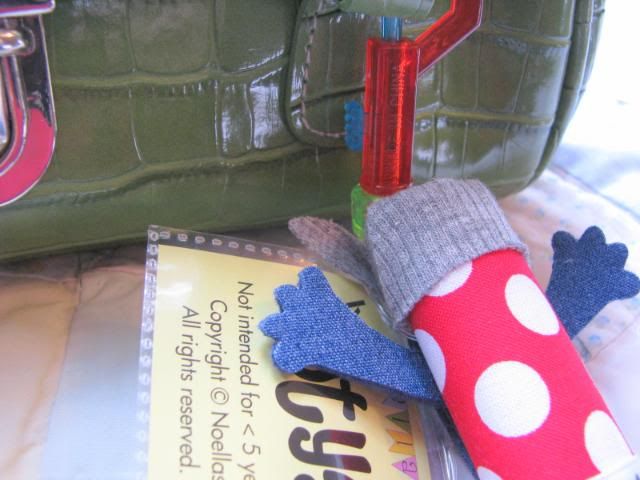 Wouldn't they be great to give to someone in the nursing home? I let my kids volunteer at our nursing home when they were growing up and little trinkets really made many a face light up. The next time you are going to the nursing home to visit or volunteer, take a dozen of these with you to see what I mean. Even those who are not really "aware" of what is going on around them always smiled when my children showed up with something special just for them.
Each little detail on the 'Iva' GotYa™ is precious and well thought out. They have dolls for male and female recipients. They are not recommended for children under 5 years of age, however, these gifts can be sent to anyone of any age thereafter.
I don't know who could resist a smile when this cute hug is received.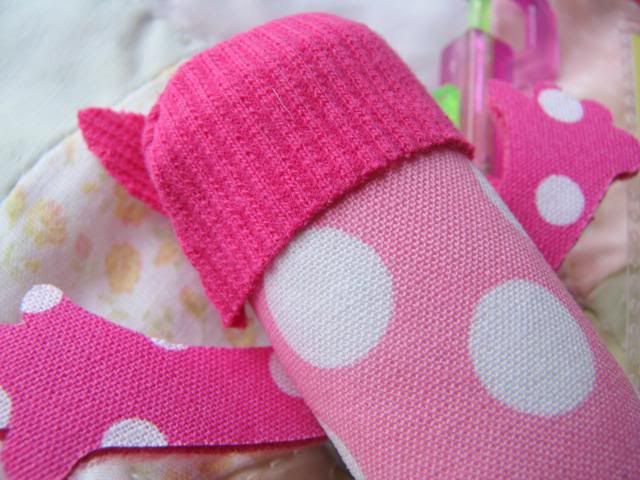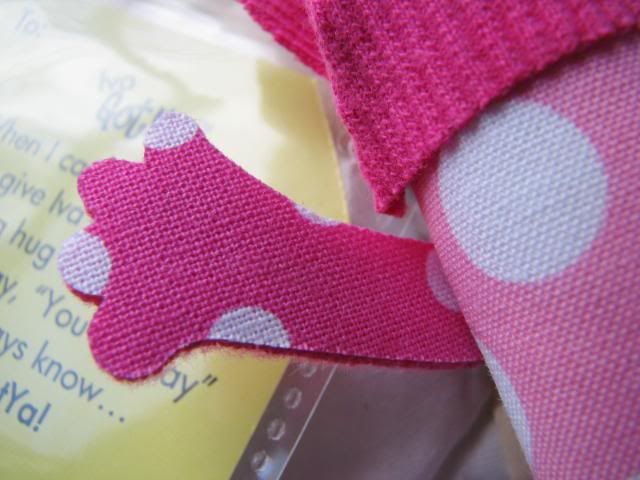 The little bandanna on the head is adorable. I immediately though of children who have cancer and are undergoing treatment. I am also impressed with how well the clip is secured to the back of the 'Iva' GotYa™ dolls. The clip is made of a hard plastic in fun colors.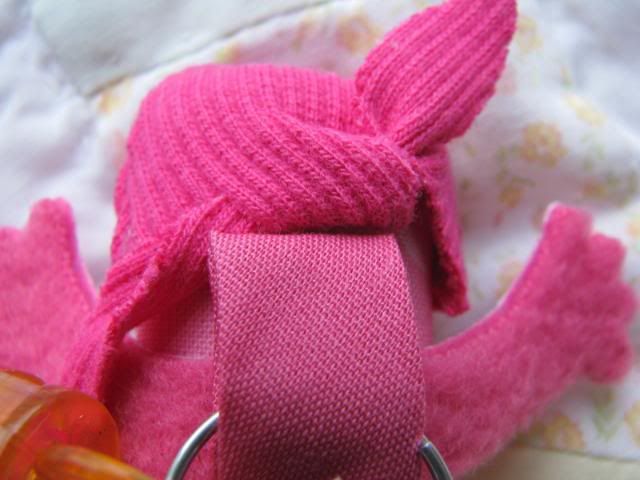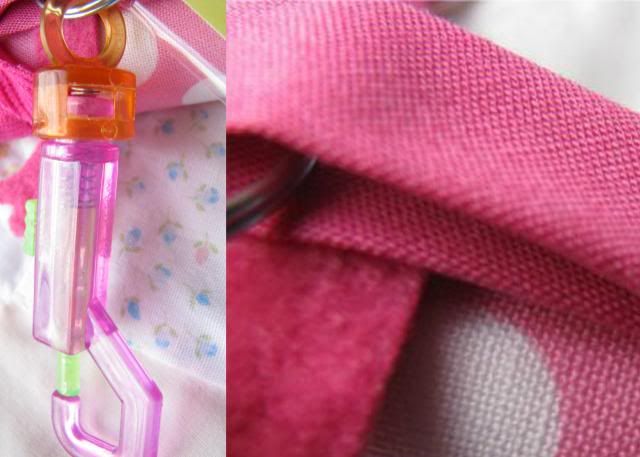 Each 'Iva' GotYa™ has GotYa around the waist. Just another little reminder to whoever you send this to that you've Got Them!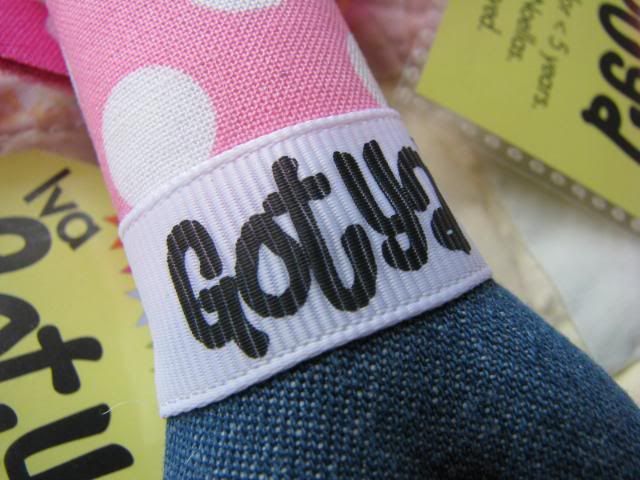 There are so many reasons to give a GotYa.™ At only $8, they are the perfect replacement for cards; from Thinking of You to Birthdays, Get Well Soon, Farewell, Best Wishes, Congratulations, Holidays (Easter!), Condolences, any occasion. You can even add your own note to say, "Iva GotYa in my prayers".
Ages 5 to 105
Handmade in the USA (Illinois)
First offered at retail in January, 2012
Julie's Iva GotYa is competing in Walmart's Get on the Shelf contest – and they are MADE IN THE USA! Please help her meaningful little American-Made 'Iva' GotYa™ gift get on the shelves of one of the largest retailers in the U.S. by voting daily through April 3, 2012 via Text and Facebook by clicking here and voting Get on the Shelf Contest. You can also help spread the word about the GotYa Spirit by Liking or Sharing their new Facebook page where they invite people to share their photos and stories. You can also follow them on Twitter and Pinterest.
To read all about the story of the 'Iva' GotYa™ please click continue reading…
I am sharing this off of noellasgifts.com.
"Hello!
My name is Julie Hollinger, owner of Noellas, and I am excited to introduce my latest creation, 'Iva' GotYa.™
As a parent, I wanted to give my children something that would remind them of me, and help comfort them when we weren't together. Whenever they had a rough day at school, I would tell them, "Just close your eyes and think of me hugging you and telling you, You're okay- I've got ya"; and this always made them smile. The GotYa™ is a special little keepsake they can carry with them, and always think of those words.
The name "GotYa" came to me from the memory of years ago when my Dad collapsed from a heart condition. My Mom held him and told him over and over, "You'll be okay, I've got ya". It helped soothe him, and he pulled through fine.
The meaning of the GotYa™ can be treasured by people of all ages. Telling someone you've "got them" is comforting. We all have special people in our lives that we want to help comfort; people in the military, hospitals, hard times, and even miles away all stay in our hearts. Even the people we see every day – our friends, families, and loved ones – like to know we care.
Life takes all of us in different directions at times, and it is nice to know that someone is always thinking of us. When you can't be there, give a reminder of you. Show someone how much they mean, and tell them
"Iva GotYa!""
Disclosure:
I received one or more of the products mentioned above for free using Tomoson.com. Regardless, I only recommend products or services I use personally and believe will be good for my readers.