Being a country music fan I was excited to be able to review Rascal Flatts new CD CHANGED (this is their 8th studio album). Rascal Flatts consists of a talented trio of men who are capturing more than just country music fans with their talent. This trio includes Gary LeVox, bassist Jay DeMarcus and guitarist Joe Don Rooney. "They have won more than 40 major awards, including seven ACM trophies for "Vocal Group of the Year" and six trophies for CMA "Vocal Group of the Year." " Impressive. I love their voices they just blend so well together *swoons*. I could not pick out a favorite of the three, they are each equally talented and unique. I'm sure this is why they harmonize so well together. I really enjoy their slow songs the best but any of their songs are worth buying and listening to.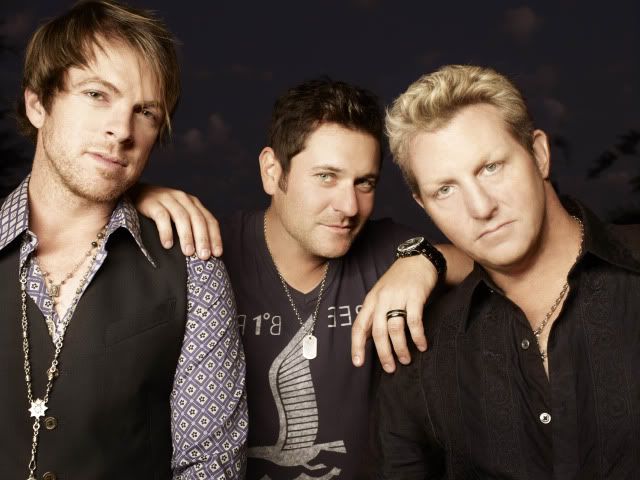 If you are on Twitter the unGodly amount of time that I am then I'm sure you saw the photos and messages I was uploading Saturday to Twitpic/Twitter as we were riding around listening to this CD for the first time. You would have thought we were teenagers instead of grand-parents if you had a glimpse of how much fun we were having. I guess you could say Rascal Flatts sparked our inner child lol. I'm definitely going to have to buy more of their CD's. I don't think I will ever watch a sunset without thinking about Rascal Flatts CHANGED. The Song A Little Home is one of my favorites. I think their family connections really comes out in this song. This trio consists of family men, husbands and fathers. Another one of my favorite songs is Banjo. If you haven't heard it you might want to check out this link. Banjo (Official Video). I loved reviewing the Changed CD and I'm happy to be sharing this newly released album as of April 3rd, CD with you.
Guess what! *excited* My readers can enter the Rascal Flatts contest below. The super duper lucky winner will win airfare, hotel, tickets and meet & greet passes for two lucky fans to see Rascal Flatts on their summer American Band tour (I've heard that its opening acts are offering a great new twist on their impressive touring legacy) kicking off this June with Eli Young Band, Little Big Town and Edens Edge. Hurry and enter woo hoo. Good luck.
Visit Rascal Flatts. Rascal Flatts tour dates.
NOTE: I really can't end this review without sharing that this great trio raised three million dollars for the Monroe Carell Jr. Children's Hospital at Vanderbilt in Nashville. I commend them.
Disclosure:
As a member of One2One Network I was provided a Rascal Flatts CHANGED CD in exchange for an honest review which I've provided. "Git Er Done" Yee haw!