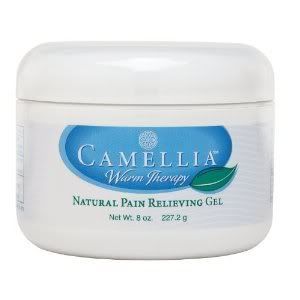 I had a really bad back ache this weekend so I was thrilled to have the pleasure of trying Camellia ® Warm Therapy Natural Pain Relieving Gel for a product review. The first thing that stuck out to me about this gel is that it is animal free and it's made from plants, which gets a huge thumb up from me. Plus, it's alcohol free so I don't have to worry about the alcohol drying my skin out. Yay! I prefer using topical products that are chemical free because it's reported that 60% of what we put on our body is absorbed into our body.
Camellia ® gel is non-greasy and fast-absorbing so there was no cause for concern that the gel would make my clothes greasy while we were on the go Saturday. The Mr. applied this to my back (I love his gentle hands) several times Saturday and by the time I went to bed my back pain had decreased from an 8 (10 being ER pain level), to a 6. This is a huge decrease in relief for me as my pain usually averages a 7 day and night.
In physical therapy they used to use the cold/heat method of relieving my back pain and it worked fairly well at giving me some relief. The cold/heat method Camellia® delivers is what made me finally decide I wanted to give this product a try. Camphor, menthol and aloe vera helps chill the inflamed areas on my back and actually did calm the pain down quite a bit this weekend. After the chill, the capsaicin (the "heat" compound in chili peppers) provided heat to my back to get down deep where the pain is.
I'm not going to discuss in length the smell of this gel. I do want to point out that it was a little strong when I first smelled it. Don't do what I did and stick your nose in it :). It's not a medicine camphor odor or clinical smell like some warming gels that I've used have. I've never smelled Camellia before, which is derived from orange peel extract, so I can't compare it to anything that has this ingredient in it. It claims to be a fruity smell but it was a little stronger than that to me. It could have smelled like, well, like… um, ANYTHING and I wouldn't have cared on Saturday. It lowered my pain which was creeping up to ER pain level and that in itself is amazing.
We have decided that this is a product we will keep on hand from now on. This is definitely a 5/5 star product based on my use and findings.
If you would like to win your own 8oz. pain relieving gel then please tell me in a comment what type of pain you have or why you would like to win this product. Maybe you just know someone with chronic pain. I have always let random.org select my winners but this time I'm going to do that myself based on your comment. The person who seems to need this the most will receive the giveaway item. I suffer from chronic pain and I know first hand what it's like. Thank you so much.
For those who want to give this product a try before the giveaway ends, you can purchase Camilla on Amazon.
Disclosure:
I received one or more of the products mentioned above for free using Tomoson.com. Regardless, I only recommend products or services I use personally and believe will be good for my readers.