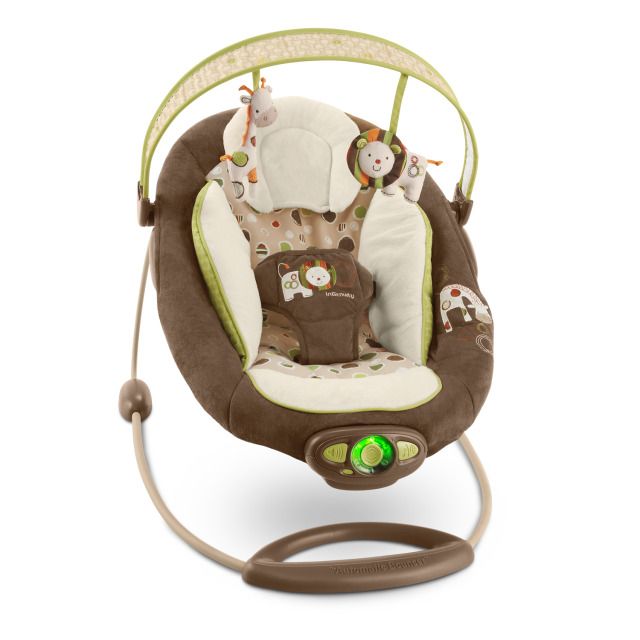 I have been reviewing an InGenuity Automatic Bouncer and one of our US 18+ readers will win one of these for yourself in a giveaway. I believe you are going to love this product as much as I do. I'd like to tell you a little about this bouncer before you enter the giveaway.
The first thing I want to mention is the safety harness. I think this is the most important feature on this bouncer. This bouncer is padded and cushioned to cradle your baby just like mom would. There is a padded head rest as well as padding on both sides of the baby. Luckily the fabric is machine washable so keeping it clean is as simple as washing it. There is a 30 minute timer built in that plays music while your baby bounces. The tunes are so soothing and they even have nature sounds on it. Also there is a toy bar overhead with two cute and matching plush toys to entertain your baby. I love how high off the floor this bouncer is so there won't be any bumped bums as the bouncer is in use. The maximum weight capacity is 9 kg (which equals 19 pounds and 13.5 ounces, if I'm not mistaken). The InGenuity Automatic Bouncer is recommended for children 0-6 months. This bouncer will provide plenty of entertainment as your little one kicks about. You will need 3 C batteries which are not included. We've been playing music off and on for the past two days on my end to test the music box and the batteries are still going strong. I'm happy to know that the music box does not drain them quickly like some products do. The cost of purchase is an affordable $49.99. You can buy these at Target, Target.com, Amazon.com, Babies R Us and Buy Buy Baby.
Please excuse our makeshift baby (lol), we thought our dear friends would be parents by now but baby to be is 2 weeks late making his or her entrance. The couple does send their apologies for having a late, stubborn and uncooperative baby bouncer and did promise future photos when using this bouncer for a follow up post. I'm impatient to find out the gender of baby to be. Having said that, if you are a regular on our site then you know I'm not one to let anything stop me when I'm on a timetable, so, here you go… our substitute bouncer. Say hello to Susan, one of Abby's MANY "daughters".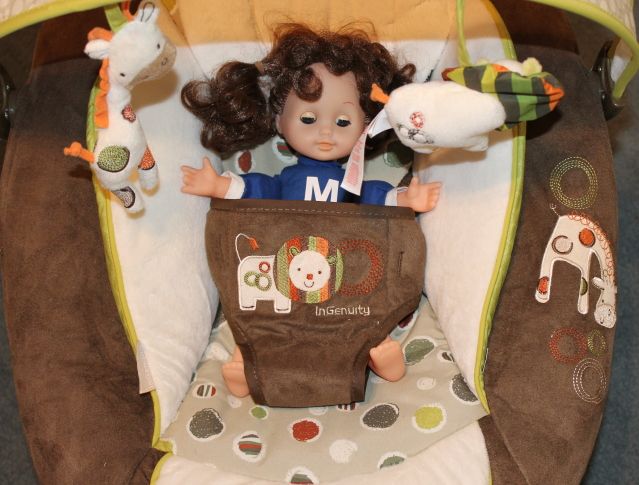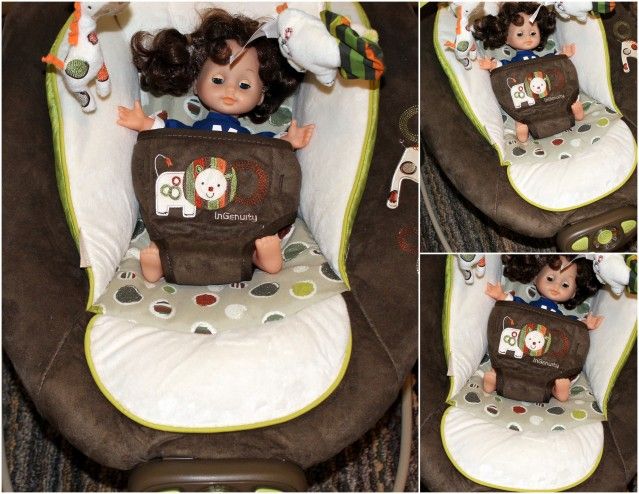 I understand if you want to skip the giveaway and go ahead and order an InGenuity Automatic Bouncer. They are worth their weight in gold. For those that want to try their luck and enter the giveaway please do so using the rafflecopter form. Thank you for your participation and good luck.
CONNECT WITH KIDS II on TWITTER.
a Rafflecopter giveaway