The kids had a school holiday today, they were out half of the day. Since I am their primary caretaker while their parents are working, I had three of our adorable grand kids for the afternoon and evening. Some of you may know how it is when you have three kids and some of you may not.
I know!
I K.N.O.W.
I KNoOo0o0o0oW!
As cute and as precious as I think they are, three kids can only mean one thing. Someone is going to be left out and there is going to be a whole lot of fussing going on. Usually when school is out, all of our neighbors kids come over here, because they love all of our animals. However, there was a dance of some sort going on, so no one came over to play with the kids. Any other time I would be rejoicing. Not so, when I have an odd number of kids to entertain. I spent all morning trying to figure out what I was going to do. Thank heavens my worries were laid to rest. Not only that, but as it turns out, I was able to put their energy to use in a fun way. By the time their mommies and daddies came to pick them up, all three kido's were happily exhausted.
Why? Read on…
I received a Plasma Car from plasmacar.com to review just as the kids were arriving. I drug the Mr. off of one of the tractors and asked him to put the PlasmaCar together for me, to save my sanity give the kids something to do, hoping to bypass any fussing that might occur. So… here's grandpa putting the car together in his man cave with a couple of little helpers… I shudder just being in the man cave. BTW please excuse the Mr.'s appearance, for those that aren't a regular visitor to this site, we live on a farm.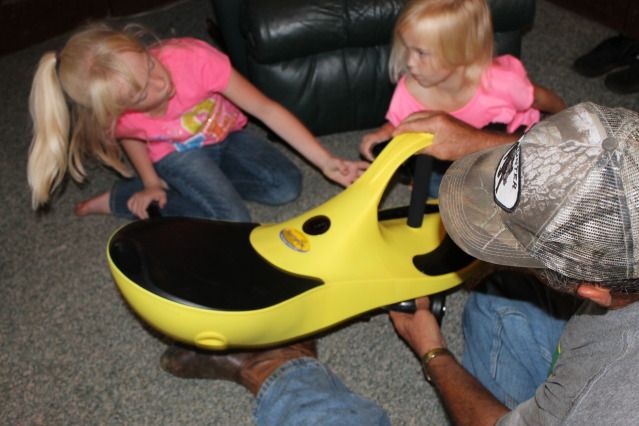 Putting all of that kid power to good use was a brilliant idea. An idea I wish I could take credit for. PlasmaCar's mechanical marvel, (that uses no batteries, pedals, gears, or electrical parts) gets all of the credit. Geniuses I tell you. PlasmaCars are simply amazing. As the kids move they are able to manuever the car and because of the unique design they are able to ride AND turn around all the while using their kid power. To move the car forward all they had to do was lean forward. To move the car backwards they only needed to rotate the steering wheel 180 degrees. This PlasmaCar is so stinkin cute that I decided to make a little video just to show how easy it is to put that kid power to good use. Keep in mind, this is my FIRST video AND it looks like this is my FIRST video. I pinky swear that I will do my best to improve over time :).
What do the rest of the kids think about the PlasmaCars? Well… my guess is, from all of the fun photos and the other videos I took, they LOVE PlasmaCar. So do I. Yes, I did take a spin myself. The PlasmaCar is fun for the entire family if you fall below the weight limit; it holds 120 pounds on uneven surfaces and 220 pounds on smooth surfaces.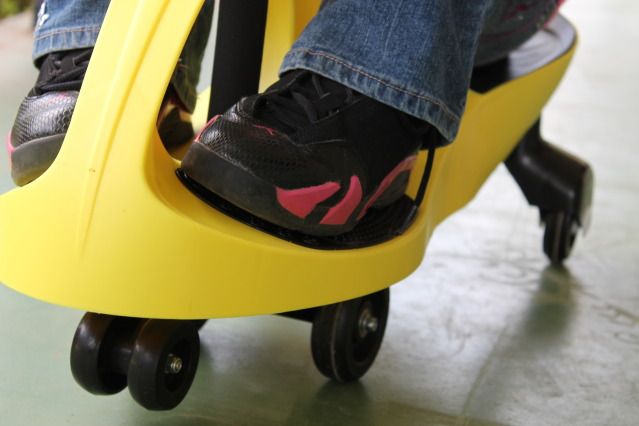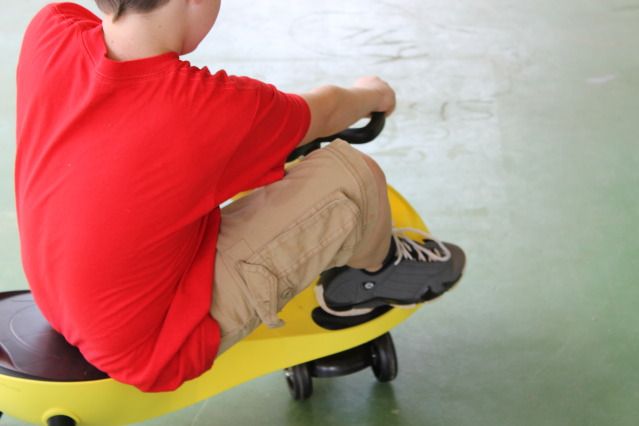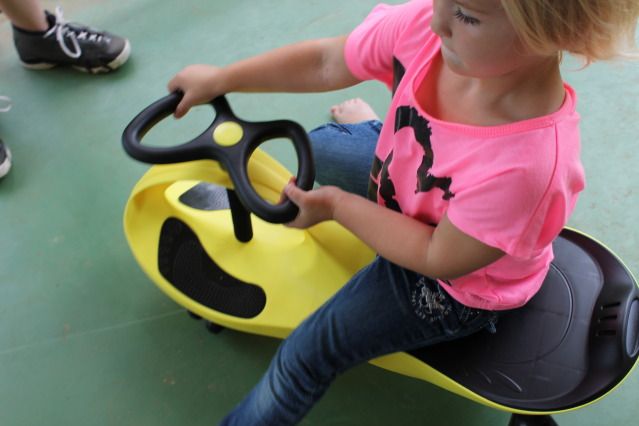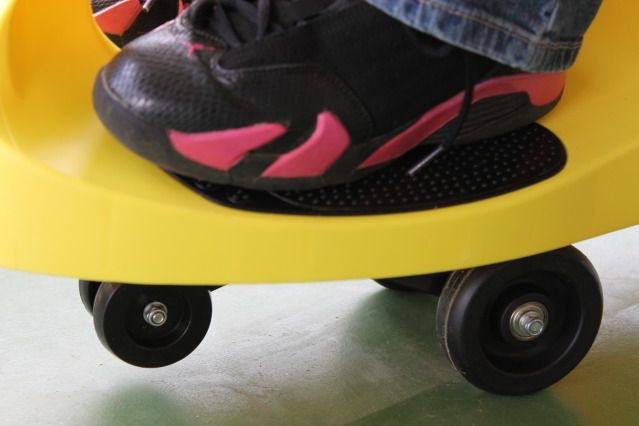 Now if I could just get the Mr. to fix the garage doors, I would be one happy lady.