I was recently given the opportunity to review an item of my choice from VinylDisorder.com. If you have ever visited their site or ordered a Vinyl Decal from them then you already know what a hard time I had making a selection. At first I thought about getting car decals of all of the grandkids, until I started looking through their vinyl wall decals. I found one I believed would be perfect on a wall that I have never been able to spruce up no matter how hard I've tried. I even call it my dead wall.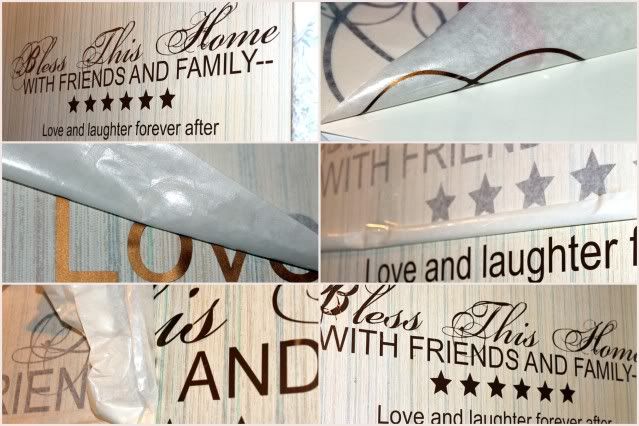 After receiving the Bless this House Vinyl Decal I selected, I went to the website to find the instructions on how to apply it to my wall. You all know how much I goof when I try to do something by myself. I wasn't dare going to tackle this or anything for that matter without instructions. The instructions looked pretty easy. I taped the decal on my wall where I wanted it, then flipped it up to separate the back from the front. I threw away the back and was ready to apply this to my wall. I wasn't having any problems at this point. It removed easily and I placed the top sticky layer against the wall where I wanted my decal to go.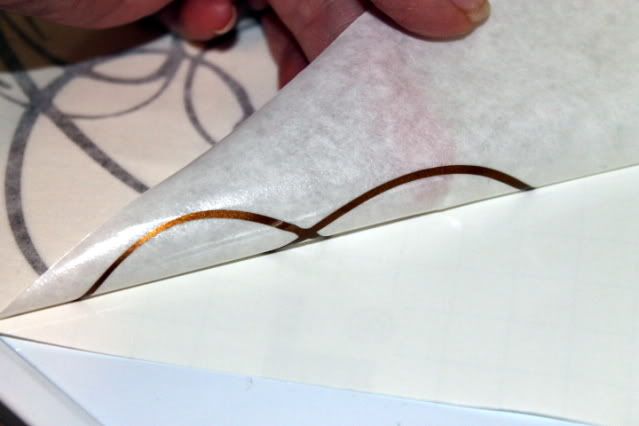 This is where my trouble started. It could be because I keep my house warmer than the norm because of my post op back surgery and current back injuries (cold weather causes severe pain). It could be due to the fact that I kept it several days in a really sunny area of the house before applying it. It could be just me goofing up like I"m known to, but whatever the reason, the decal wanted to stick to the top layer and not come off on my wall. I did manage to get most of it on my wall. I used a flat surface object and tried to do the best I could. A lot of the cursive writing is broken, and, well, it's not perfect. You can see where the B and the H are both missing some loop de loops. I honestly believe it's just one of those fluke things that happens. Or like I said it could be the temperature in my house.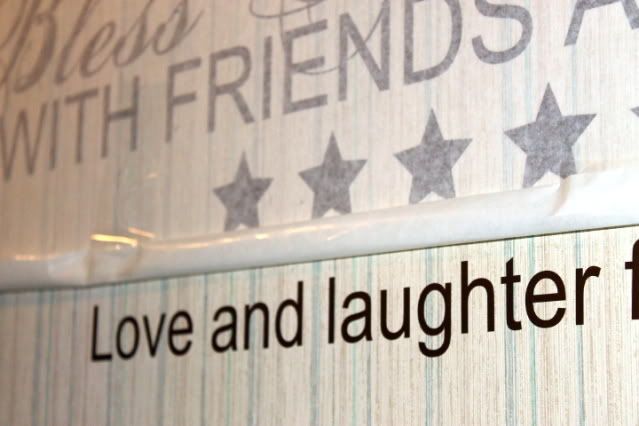 A friend of mine ordered 2 decals from VinylDisorder.com and I can't wait to see how they look when she applies them. Even though you and I know it's not perfect, I have had so many compliments on it that I decided not to remove it from my wall. Yes, you can remove these from your wall. That is the number one main reason I wanted to give the decals a try. You all know what happened with my last stencil project ;). And NO, I don't point out the errors I made in applying this beautiful bronze colored decal. It really does liven the wall up. Don't you agree?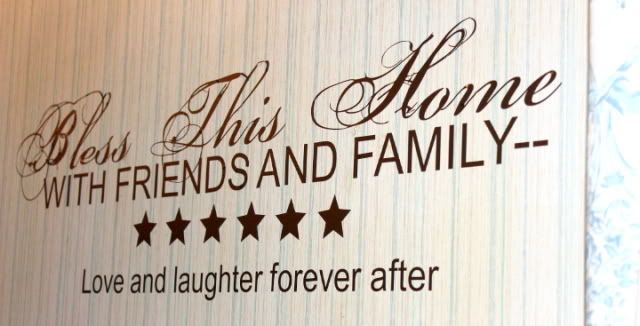 One of you will have a chance to win a Vinyl Decal from VinylDisorder.com for your choice of any decal up to 36″ (which is the size I selected) except… gold leaf, chrome or glow.