This may surprise you but there are many uses for coconut oil besides the obvious that it's suppose to be the healthiest oil to cook with. In case you missed my DIY salt scrub post please check it out at your earliest convenience. It's amazing for those dry cracked heels, elbows, knees as well as for your face, to slough off dead skin. I even shave my legs with Dr. Mercola coconut oil! It's one of the best "beauty" products you can buy.
Today I want to share another tip with you that you can do with your Dr. Mercola coconut oil. If your electricity ever goes out during a storm and you don't have candles on hand, let me suggest making a DIY oil lamp. I highly recommend Dr. Mercola coconut oil but if you only have olive oil on hand (that's another light, clean, burning oil) then you could use it as a substitute. This would only be in an emergency situation such as running out of Dr. Mercola coconut oil, or, while you are waiting for your coconut oil to arrive ;). Handmade oil lamps are so easy to make, you will want to make one or two for every room.
What you will need:
16 oz jar (or more depending on how many oil lamps you intend to make) of Dr. Mercola Fresh Shores Extra Virgin Coconut Oil.
Tap Water.
Fire proof jar; a suggestion would be a canning jar like mason or ball.
Wick (you can make your own out of tightly woven cotton tea towels or even socks, there are lots of tutorials online for this).
Lid with a hole punched in the middle or a paperclip to slide over the side of your jar to hold in place (I've seen tutorials for this online), wrapped around the wick in the middle of the jar.
I am a jar person, I get that from my mom who has every "blue" jar that was ever made, I believe. When I find jars at yard sales of thrift stores I'm a happy camper. There are so many uses for jars if you have the room to store them. The jar I'm going to use is one that is made especially for an oil lamp.
I filled my desired jar up about 3/4 full of water. I had to get the oil to oil form by sticking in in the microwave for a minute. I then poured about 1/2 cup on top of the water (must be on top) because water won't light lol. The water will keep the wick from burning down to the bottom which I don't want. It would be too hard to clean smudges out of this jar lol. It's really one of my favorite finds. Lastly, I added a few drops of Bergamot essential oil to make this smell wonderful (but let me also suggest cinnamon oil which I'm currently out of). I then put the wick in and let the oil on top soak the wick to the top. I lit it to make sure it will burn light and then put it up in a warm cabinet until needed. If I have a problem with my oil condensing I will just wrap my handmade oil lamps in a heating pad at the first sign of a storm. I'm sure there are battery operated devices you could use as well.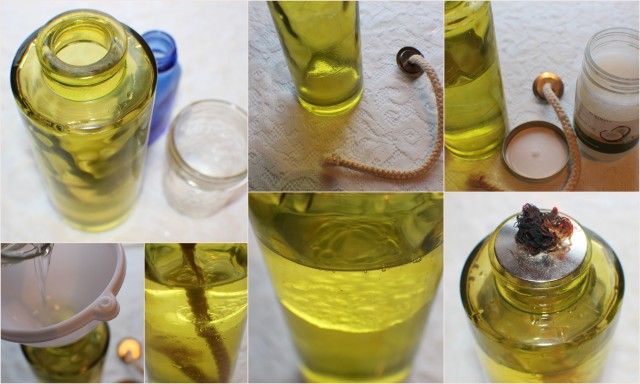 The next time you have a storm brewing, make up a few DIY, Dr. Mercola, coconut oil, oil lamps and be prepared.
If you have any creative uses for Dr. Mercola coconut oil, I'd love for you to share them.