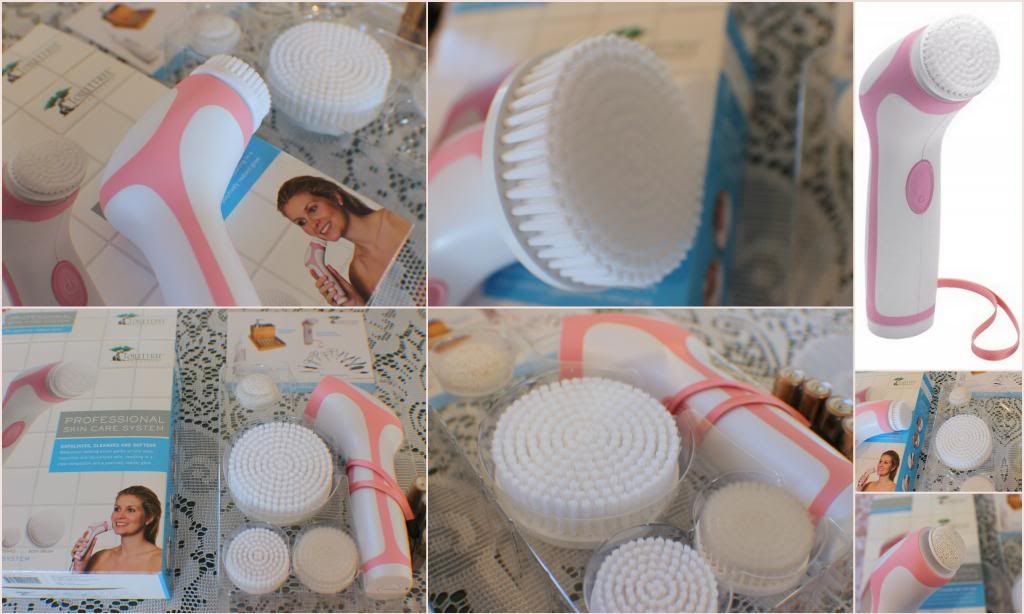 I've not always taken care of my skin. I've not always had time to go to the spa. I've also not always been able to afford good skin care products. I've discovered something for my face (and yours) that is affordable and it exfoliates while it works to remove dead skin cells. I'm getting the spa benefits at home at a fraction of the cost. It is providing everything my face needs to look radiant and healthy PLUS it comes with a pumice sphere attachment for my feet thus saving me money I would otherwise have to spend for a pedicure.
This amazing product is a Professional Skin Care System by ToiletTree Products. I have reviewed one in the past and it had an accident. An Abby accident. Those of you that know my grand daughter Abby know what a little stinker she can be. She decided her dog named Pup needed a facial and his back and belly brushed with my skin care system. I can't bring myself to use it or the attachments again so Pup's new system is stimulating his skin renewal. If he wore makeup (and trust me with Abby he has a time or two), this system would clean deep to help remove his stubborn makeup along with multiple other uses I'd love for you to go read about.
As of this week I now have a new Professional Skin Care System thanks to ToiletTree Products and my face and body area are once again looking healthier by the day. With my system came 4 AA batteries, 2 facial brushes (one soft and one a bit firmer), a nice large body brush (that my back can't get enough of) and a pumice sphere. This waterproof system has everything I need to feel like I've spent a day at the spa. Please check out the link below to learn more or to order the Professional Skin Care System.
Amazon Storefront | Amazon Canada Storefront