You may or may not know what Tomato Relish is but if you ever try it you will be glad you did. We put it on everything from rice to hamburgers to all types of vegetables. I found the recipe in a Taste of Home Canning and Preserving magazine and we have loved it every since. A lot of people ask me for the recipe offline and I thought it would be nice to share it online as well. I recommend you buy the Taste of Home Canning and Preserving magazine if you can find the edition. I have seen the Kindle version of this on Amazon, however, I prefer the magazine instead.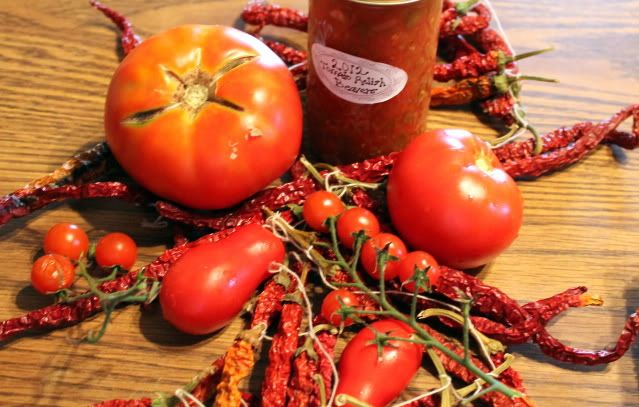 You have to start with 10 pounds of tomatoes. That sounds like a lot but it wasn't as much as I predicted. I've played around with this recipe until I got it just about as perfect as I could. I would either put too many tomatoes or not enough (I finally decided to buy scales). Here is how I know when I have enough without using the scales… I put the diced tomatoes in a Freezer Gallon size Ziploc bag and when there is 3 inches left to go when I hold it up, it's perfect. Enough juice and fruit (yes tomatoes are a fruit) without overdoing it.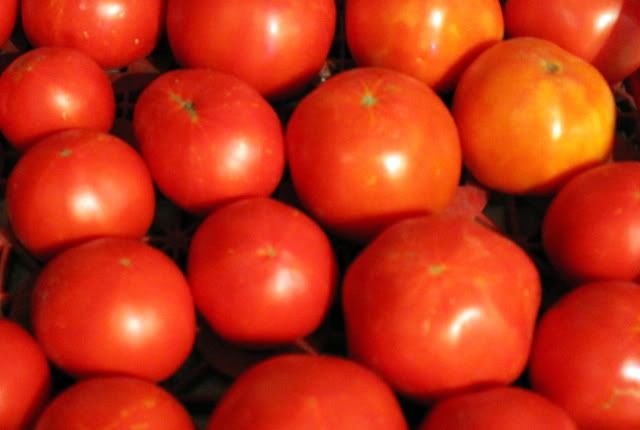 Next in goes 3 large "sweet" onions. These have to be finely chopped so whatever you use to cut up your veggies will work. I cut and diced the first few batches then said "the heck with this" and started putting them in the blender on "chop" (with 1/2 cup of vinegar). Worked great and saved these achy hands quite a bit of work.
This recipe calls for 2 medium size red AND green peppers. The last batch I did, I used 4 different pepper colors to see if it would give it a little more "veggie bling". It didn't. The peppers have to be finely chopped as well. Chop on the blender will work fine (with 1/2 cup of vinegar).
You will need to put 2 teaspoons of mustard seed and 1 teaspoon of celery seed in cheesecloth and tie tightly. I can never find cheesecloth when I need it so don't tell the Mr. but I use his white T-Shirts and cut them into approximately 10×10 inch squares (new T-Shirts of course, wash them first and rinse, rinse, rinse…). After I tie the little pouches I cut them off about an inch from the tie.
This recipe calls for 4 1/2 cups of white vinegar. I use 4 since I use a half a cup in the veggies (drain them then use over and over). I didn't have a half left after veggies this time so I had to put some with it. 4 1/2 cups. No more no less.
You will need 2 1/2 cups of packed brown sugar. The Mr. puts 2 cups when he makes it, I use 2 1/2. The recipe calls for 2 1/2.
Next up is 3 tablespoons of canning salt. I buy NON iodized salt.
Now for the rest of the ingredients, the spices. Don't skimp on spices, buy McCormick for the best flavor.
2 teaspoons ground ginger
2 teaspoons ground cinnamon
1 teaspoon ground allspice
1 teaspoon ground cloves
1 teaspoon ground nutmeg
If you are a spice cooker like I am then you probably already have these ingredients in your spice cabinet.
The recipe once again in case you want to print it…
Tomato Relish
10 pounds tomatoes
3 large sweet onions, finely chopped
2 medium red peppers, finely chopped
2 medium green peppers, finely chopped
2 teaspoons mustard seed
1 teaspoon celery seed
4 1/2 cups white vinegar
2 1/2 cups packed brown sugar
3 tablespoons canning salt
2 teaspoons ground ginger
2 teaspoons ground cinnamon
1 teaspoon ground allspice
1 teaspoon ground cloves
1 teaspoon ground nutmeg

Once you get all of your ingredients together, it's time to start.
Wash your tomatoes really well. Then, in a large saucepan or stockpot, bring 8 cups of water to a rip roaring boil. Rip roaring now! Add a few tomatoes to the water for 30 seconds then put them in ice water. Keep doing that until you have finished all of your tomatoes.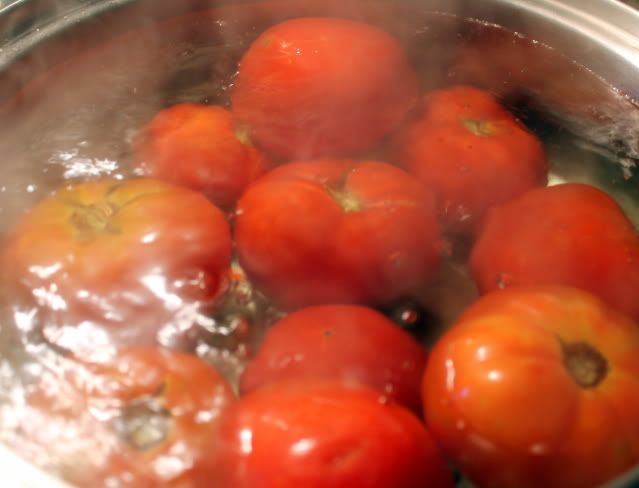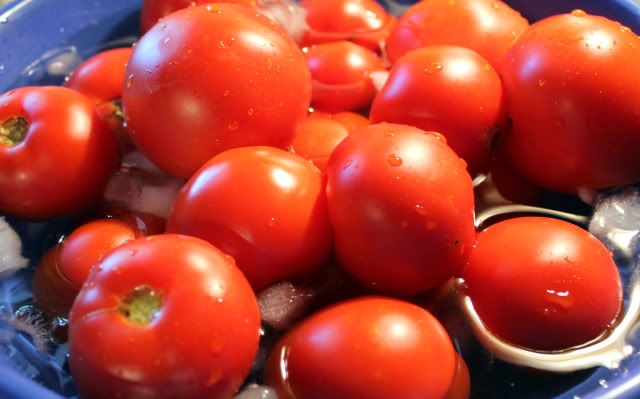 Now comes the peeling and dicing of tomatoes. Are we having fun yet?
Add the tomatoes to a fairly large stockpot. Dice your onions, then add to the stockpot.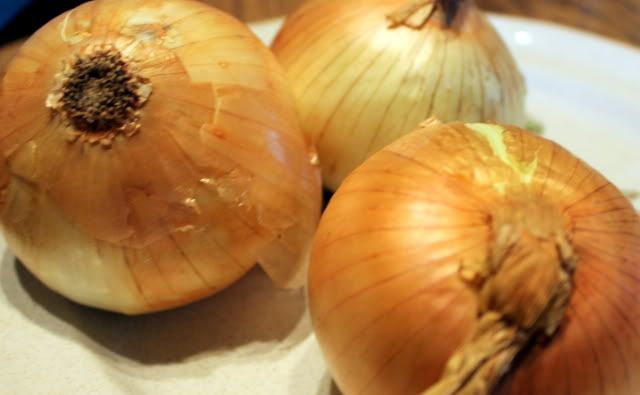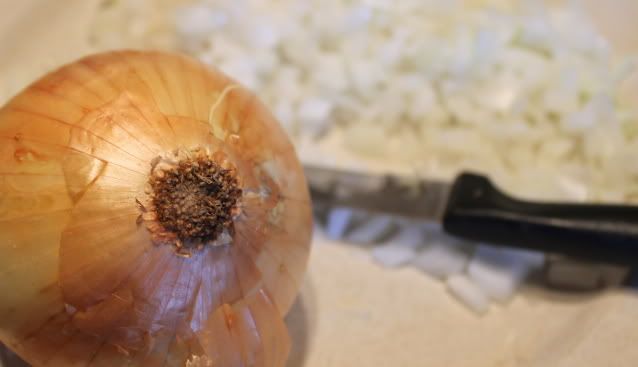 Dice your peppers, then add to the stock pot.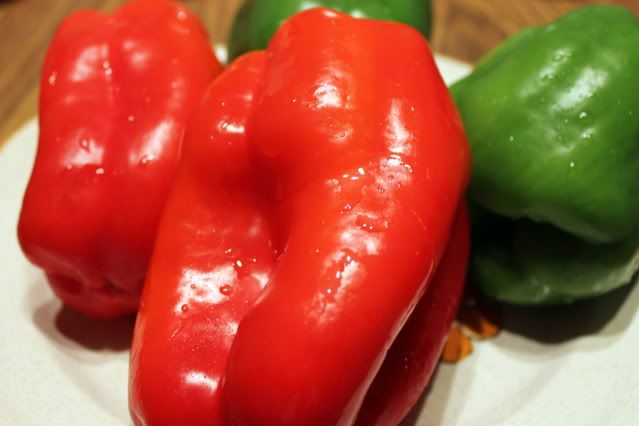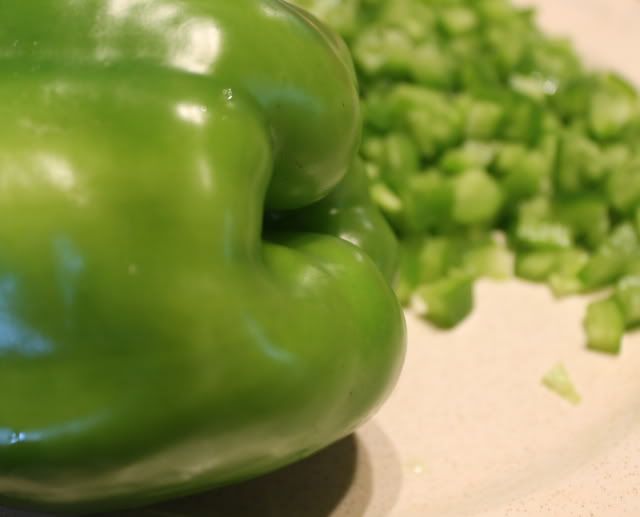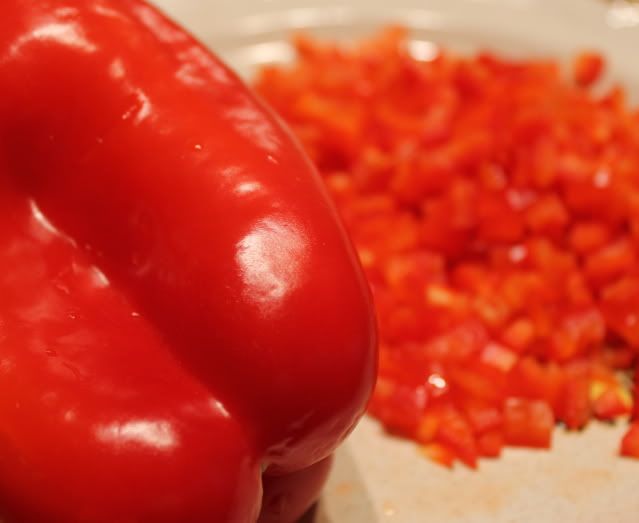 Place the mustard and celery seed pouch in the stockpot and add each of the remaining ingredients. I keep this made up ahead of time in plastic bottles so all I have to do is throw one of the pouches in. Bring to a boil, reduce heat and simmer for 60-70 minutes or until slightly thickened. I set my timer for 70 minutes for each batch we made, perfect thickness. Right about now things will start smelling heavenly.
Ladle the hot relish into HOT 1-pint jars, leaving 1/2 inch headspace. Wipe rims and adjust the lids. This recipe makes 10 pint size jars.
Process the jars in a boiling water canner for 20 minutes.
Eat and enjoy. Ohhhh it's so good.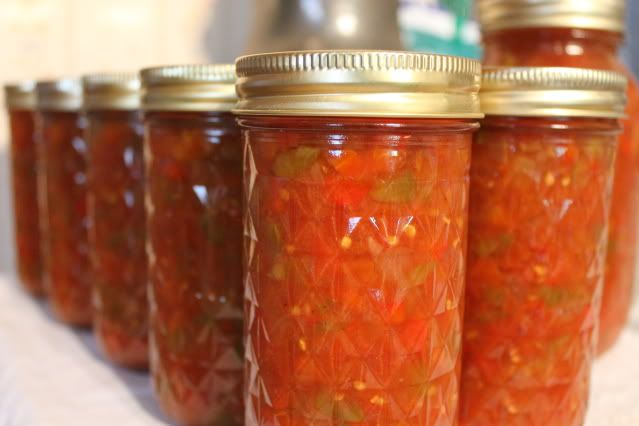 I love to keep the relish in glass jars on our kitchen table when we have company for dinner, it adds a splash of color and looks so homey.
If you like this recipe, please add it to your recipes board on Pinterest. Thank you so much. xo