After owning many different Neve Designs products, I feel like I have bragging rights on Neve Designs, lol. Let me just sum this up and say, I'm a big fan of Neve Designs. I wear their sweaters, scarfs, hats and totes all the time and this year I added an Amelia Toggle Jacket to my ever growing collection. I asked Vicki from Style and Fashion Reviews if she would pose in the photos so I can show how darling it looks; I can't for the life of me take self portraits. Thanks Vicki.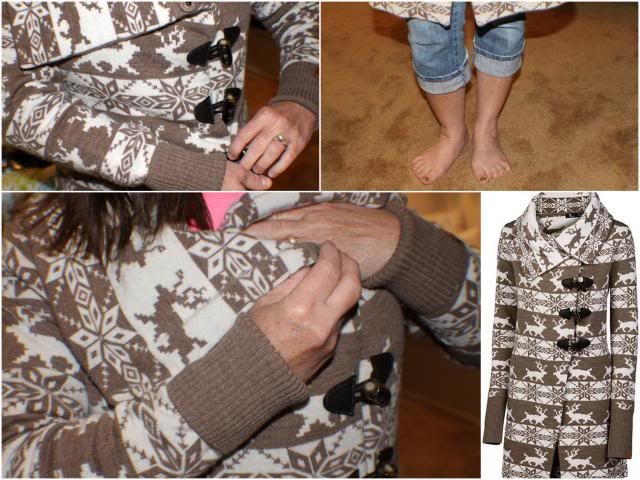 I love everything about this jacket. The colors I selected, the fancy collar, the buttons and the length. The reindeer and snowflake patterns make it fun while keeping it elegant enough to wear with anything. It's made from 100% Ultra-Fine Merino Wool, and if you are new here and have never read one of my Neve Designs posts before, the wool is NOT itchy. This jacket is warm and comes in 3 beautiful color choices. It's flattering and chic and you can purchase the Amelia Hat and Shawl to go with this jacket.
I'm sure there are those on your holiday shopping gift list that would love to own one of these jackets. You can buy an Amelia Toggle Jacket for $240. The Amelia hat ($55) and shawl ($152) are sold seperately.
Neve Designs has agreed to provide one of you with a FREE Mia Weekender for your holiday travels, because they rock like that. If you live in the US and are at least 18 years old, you can enter for the chance to win.
Neve Designs Online & Social Media
Website: www.nevedesigns.com
Twitter: www.twitter.com/nevedesigns
Facebook: www.facebook.com/nevedesigns
Instagram: nevedesigns